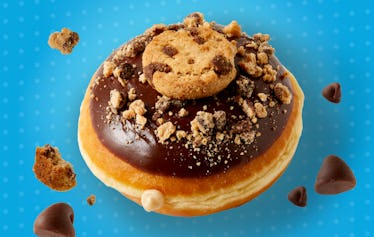 Krispy Kreme's New Doughnuts Taste Like Nutter Butter & Chips Ahoy! Cookies
Krispy Kreme
As if your mornings couldn't get any sweeter, Krispy Kreme is rolling out two new cookie-inspired doughnut flavors — and you're taste buds are going to be really happy about it. Making their big debut in Krispy Kreme shops across the country starting on Tuesday, April 10 are two doughnuts inspired by your favorite childhood cookies: the Nutter Butter Cookie Twist Doughnut and the Chips Ahoy! Doughnut. These two iconic cookie-doughnut mashups from Krispy Kreme's limited edition cookie-flavored doughnut collection are enough to make anyone's day.
The wistful flavors join another beloved cookie-inspired doughnut classic creation at Krispy Kreme: the Oreo Cookies and Kreme. If you're not familiar with what exactly this donut entails, well, let me bring you up to speed. The Oreo Cookies and Kreme doughnut is appropriately stuffed with a silky Oreo Cookies and Kreme filling, slathered with a dark chocolate icing, topped with Oreo cookie crumbles, and finished off with a sweet white drizzle.
"Like Krispy Kreme, Oreo, Nutter Butter and Chips Ahoy! are cookie institutions," said Jackie Woodward, Chief Marketing Officer of Krispy Kreme Doughnuts. "Only Krispy Kreme can take these treats to the next level by infusing flavors to make each cookie an awesome doughnut experience."
Krispy Kreme is known for it's fun, original and oftentimes festive doughnut creations. Earlier this year, the North Carolina-based breakfast chain released green doughnuts for St. Patrick's Day and a Reese's Peanut Butter Egg doughnut for Easter. And since they've been around since 1937, suffice to say they know a thing or two about crafting the perfect doughnut. But of all the unique mashups the store has churned out, these two cookie and doughnut pairings from Krispy Kreme just might be the best yet.