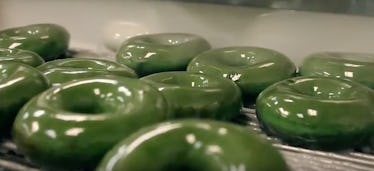 These Krispy Kreme Green Donuts Are Perfect For Your St. Patty's Day Breakfast
It seems like every major holiday has its fair share of tasty treats to accompany your celebration. There's something extra fun about St. Patrick's day goodies, though, because they're usually dyed green in order to give your food a festive touch. With the holiday right around the corner, you're probably starting to plan some activities for the day. Lucky for you, Krispy Kreme can help get your St. Patty's day off to a celebratory start with these Krispy Kreme green doughnuts.
These St. Patrick's Day green doughnuts from Krispy Kreme are dyed in the festive hue of the day, according to Delish, and they are sure to get any celebration off to a tasty start. I don't know if it's the luck of the Irish or the fact that St. Patrick's Day falls on a Saturday this year, but the aptly named O'riginal Glazed Doughnut will be available at participating Krispy Kreme locations on Friday, March 16 and Saturday, March 17 (St. Patrick's Day), according to the Krispy Kreme website. So, you have two chances to get your hands on the classic doughnut that's been given a festive upgrade with its green-tinted dough.
Krispy Kreme's official Twitter account has been making sure that all doughnut lovers know about the O'riginal Glazed Doughnut.
Despite the rare green coloring, the O'riginal Glazed Doughnut is the same traditional sugar-glazed yeast doughnut that you crave, so you can be sure everyone will enjoy them when you show up to the office or your St. Patrick's Day party with a box of these green doughnuts.
Dyeing food green to celebrate the holiday seems like a simple step to make your day a little more festive, but Krispy Kreme is doing all the hard work for you. Jackie Woodward, Chief Marketing Officer of Krispy Kreme, revealed in a press release, "Krispy Kreme O'riginal Glazed Doughnuts are fun to eat all on their own, so we thought there is no better way to dial up the fun than going green for St. Patrick's Day."
All you need to do is pick up a box of O'riginal Glazed Doughnuts and enjoy this sweet celebration of St. Patrick's Day.
Even better news is that the O'riginal Glazed Doughnut isn't the only way that Krispy Kreme is celebrating St. Patrick's Day this year. The iconic doughnut chain announced on their Twitter account on Monday, March 12 that doughnuts topped with green sprinkles are available at participating U.S. shops. I don't know about you, but I firmly believe that adding sprinkles makes pretty much anything seem more festive.
If you prefer a heartier topping on your Krispy Kreme doughnut, then you can opt for the Hershey's Gold Doughnut that is topped with a salted caramel drizzle and Hershey's Gold bar bits, according to USA Today. It might not be a festive green color, but it's probably tastier than that pot o' gold found at the end of a rainbow. This golden treat is only available for a limited time.
Now that you have your St. Patrick's Day options (O'riginal Glazed Doughnuts, green sprinkles, or the limited-time Hershey's Gold Doughnut) set when it comes to Krispy Kreme, you can look forward to the newest flavor that will join the Krispy Kreme menu for one week this spring.
There was a contest back in January that let doughnut lovers make their voices heard about what flavor Krispy Kreme doughnut they wanted to enjoy next. The votes were tallied, and it was announced on Jan. 25 that lemon was the big winner, according to Food & Wine.
While there is no set date for the arrival of the lemon Krispy Kreme doughnut, you can keep an eye out for it soon since the official voting page said, "The doughnut will be available for a full week this spring at participating Krispy Kreme shops."
Well, it's clear that Krispy Kreme likes to keep busy and keep up with the calendar. That's good news for you, though, because now you have so many great doughnut options for St. Patrick's Day and beyond.