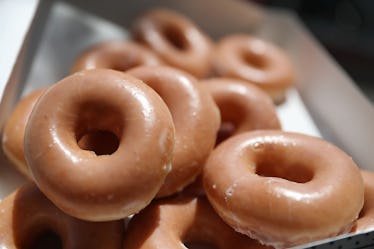 Krispy Kreme's New Donut Flavor Is Shocking, But It Sounds Pretty Damn Good
Joe Raedle/Getty Images News/Getty Images
I think it's safe to say that donuts have really blown up in the past couple of years. Sure, I've thoroughly enjoyed the breakfast treat since the day I started chewing, but places like Dough, Duck Donuts, and Blackbird Donuts have really made donuts a staple of the American donut. Even old favorites like Dunkin' Donuts have branched out and expanded their selection, and clearly, I'm not complaining. Another old favorite is getting ready to add a new flavor to its roster, so get ready. Krispy Kreme's new doughnut flavor might just have you puckering up.
According to Food & Wine, the Krispy Kreme lemon donut is coming to locations in America and Canada later this year. The tangy treat is sure to win over anyone who likes a little sweet and a little sour in their lives. Think Girl Scouts' Lemonades, but in donut form. My mouth is watering already.
So how did this happen? Apparently, a very important election has been taking place this month. From Jan. 18 to 22, donut lovers headed to voteforglaze.com to cast their vote for the next Krispy Kreme donut flavor. Other candidates for this important role included caramel, blueberry, and maple donuts. Almost 2 million votes were cast, and 36 percent of them went to the citrusy winner. Caramel came in second with 26 percent, followed by blueberry with 20 percent, and maple at 18 percent. To be honest, maple and caramel seem like more obvious donut choices, but I have a feeling lemon is going to be amazing.
If you were really holding out for one of the runners up, you don't have to lose all hope just yet. Krispy Kreme has indicated that caramel, blueberry, or maple could be coming down the pike sometime in the future.
"Lemon won the vote," said Krispy Kreme Chief Marketing Officer Jackie Woodward. "But we can't glaze over the fact that the other three flavors all received a lot of support, even beyond the vote." Woodward added that this isn't necessarily the end for the other three flavors. "While the polls are closed, our minds are not." Ah, democracy.
So when can we expect the lemon donut? We don't have a specific date yet, but it is going to be a few months. The lemon donut "will be available for a full week this spring at participating Krispy Kreme shops," per voteforglaze.com. That feels like a long time to wait, but what better way to kick off a new season than with a fresh, lemony treat, right?
As someone who greatly appreciates the classic Krispy Kreme donut (I once ran a race where I had to run two miles, eat six of them, and then run two more miles), as well as the refreshing taste of lemon, I'll be counting down the days until this beauty hits stores.
This is just the first of what we hope will be a number of exciting announcements from Krispy Kreme this year. In 2017, the donut chain blessed us with some pretty amazing flavors. In August alone, they gave us both the chocolate glazed donut, to help us celebrate the eclipse, and the Reese's peanut butter donut, to help us celebrate, well, Reese's. Then in September, the company gave us a little preview of fall with the one-day-only pumpkin spice donut, which was anything but basic, and not to mention the perfect companion to our actual pumpkin spice lattes.
The holiday season welcomed gingerbread glazed donuts, to give us a break from cookies (though not from our holiday sugar rush). Oh, and they gave away free donuts on Dec. 15, aka Ugly Sweater Day. If anyone knows how to capture our hearts, it's Krispy Kreme.
Check out the entire Gen Why series and other videos on Facebook and the Bustle app across Apple TV, Roku, and Amazon Fire TV.