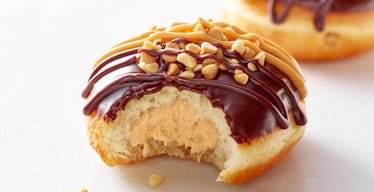 Reese's Gave Krispy Kreme The Peanut Butter Treatment And We're So, So Happy
Courtesy of Krispy Kreme Doughnuts
When there's a marriage between two delicious flavors like peanut butter and chocolate, it's obviously cause for celebration. There's no need for the "speak now or forever hold your peace" bit, because a more impeccable union could not be possible. Thankfully, dreams have been answered, all thanks to Krispy Kreme's Reese's Peanut Butter doughnuts -- so get ready to revel in the perfection of this pair.
Everyone was experiencing an extreme case of FOMO when Krispy Kreme joined forces with Reese's last year to bring a delicious doughnut Down Under. That's all well and good, Krispy Kreme, but aren't you forgetting about your hungry customers in the United States? Needless to say, the lack of peanut butter doughnut accessibility was an issue for everyone. They were dark times, indeed.
Clearly realizing the error of its ways, Krispy Kreme decided to bring its delicious doughnut stateside so everyone in America can experience the greatness. Beginning Aug. 4, the tasty snack will be available, but only for a limited time, Food & Wine reports. So you're going to have to act fast -- but judging from the description, that won't be a problem.
The treat comes complete with a Reese's Peanut Butter Kreme filling and chocolate icing, which is tempting in itself. But the taste is taken to the next level thanks to the drizzle of chocolate and peanut butter that's topped off with Reese's Mini Peanut Butter chips and peanuts for good measure. It goes without saying that dessert dreams everywhere have been fulfilled.
"Similar to our hot, fresh doughnuts, the matchmaking of chocolate and peanut butter is a delicious combination that consumers have enjoyed for generations," Jackie Woodward, Krispy Kreme Doughnuts' chief marketing officer said in press release.
This generation included, so keep the peanut butter comin'. Is there a better way to kick off a summer Friday than with the release of these bad boys? Definitely not. See you in the Krispy Kreme line.