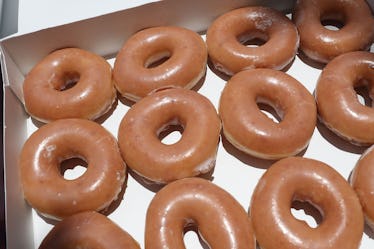 Krispy Kreme Is Giving Away Free Doughnuts, But There's a Catch
Joe Raedle/Getty Images News/Getty Images
Some people like to kick back and relax after a long work week, rewarding themselves with a nice glass of wine, or maybe a mini Netflix marathon. Though both options are absolutely stellar ways to wind down, my personal favorite end-of-week vice goes more along the lines of enjoying an entire box of doughnuts to myself. If this sounds like an ideal Friday afternoon to you, I'm going to let you in on a little secret and tell you how to get free Krispy Kreme doughnuts for Ugly Sweater Day.
If you're avoiding social media like the plague, it's likely that you haven't already heard that Dec. 15 is now considered to be one of the most important holidays this month, most commonly known as Ugly Sweater Day. Since this doughnut-filled holiday is currently taking emotional precedence over everything else in my life right now, I am literally counting down the minutes until I can pull on my ugliest and flashiest Christmas sweater with pompoms glued to the front, just to grab a free box of sweet, delicious doughnuts. I can already smell them from here.
To commemorate this lovely holiday, Krispy Kreme will be giving out a BOGO dozen doughnut deal to anyone sporting their ugliest holiday sweaters. And the best part is that the deal lasts all day long. But between you and me — while the ugly sweater part is highly encouraged — it actually isn't mandatory (it's just fun and spirited... so do it.) The BOGO deal is valid at most Krispy Kreme locations nationwide, including Canada. The Krispy Kreme website has an abridged list of participating locations, however, it seems to be available at most of their doughnut shops.
So whether you decide to sport a geeky hand-knit sweater vest from grandma, or if you choose to sew sleigh bells to every inch of your old cardigan from middle school, there is no better time to wear it than now. Pull it out from the attic or from under the bed, and make sure to wear it proud. Not only will you look absolutely incredible, but you'll get twelve free doughnuts from Krispy Kreme — and free doughnuts are really all that matter in life.
If you happen to be one of the select sad few areas of the US living without any Krispy Kreme doughnut shops in your neighborhood, there are tons of other ways you might be able to take advantage of that gloriously hideous sweater. They don't necessarily involve free doughnuts, but they are super festive, and fun as heck.
Today, for example, Alaska Airlines is reportedly allowing early boarding to anyone sporting a festive and ugly sweater, so take note and enjoy claiming that nice overhead baggage space. Also, the Ugly Sweater Run holds a series of 5K's throughout December in participating U.S. cities. Finishers ages 21 and over receive a hot chocolate and a Kalua cocktail at the finish line, so even if you can't get yourself a free box of Krispy Kreme doughnuts, at least just do it for the yummy hot drinks.
If you're totally and utterly determined to finish that work week with a heaping box of free doughnuts, or if you missed out on going to a holiday party season, now is the perfect time to grab that weird, ugly festive sweater and to wear it to your nearest Krispy Kreme location. And if you don't own a gaudy Christmas monstrosity-of-a-sweater, don't worry about it; we won't judge you. No matter what you're wearing, everyone deserves free doughnuts in the spirit of the holiday season.
Check out the entire Gen Why series and other videos on Facebook and the Bustle app across Apple TV, Roku, and Amazon Fire TV.