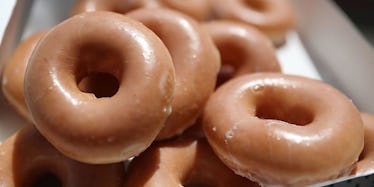 There's A Krispy Kreme Pumpkin Spice Doughnut Coming — But There's A Catch
Joe Raedle / Staff / Getty Images
It's the most wonderful time of the year — fall. The season comes equipped with all of its sweater-wearing, candle-burning, and latte-sipping glory. But the season wouldn't be complete if doughnuts weren't given the pumpkin spice treatment, and Krispy Kreme knows this well. If you're already wondering when Krispy Kreme Pumpkin Spice Doughnuts are available, mark your calendar: Sept. 8 is the only time you'll be able to grab the seasonal snack. Act now, or forever hold your pumpkin spice doughnut peace.
The beloved chain is set to release its Pumpkin Spice Glazed Doughnuts nationwide, with the exception of locations in Foley and Mobile, Alabama, and those in Louisiana, unfortunately. This marks the return of the treat from Oct. 26 last year, when the dessert was sold in celebration of National Pumpkin Day. This year, however, fans are going to get a taste of the dessert a few weeks earlier, as Sept. 8 marks the one-day-only sale. If you're in need of a fall fix, you better make sure you're prepared for a pit stop (chances are you won't be the only one in line).
In the event something goes awry — perhaps you make your way to Krispy Kreme too late — there are plenty of other ways to satisfy your pumpkin craze.
Nowadays, pumpkin isn't reserved for the kitchen table.
It's a fashion trend, too (seriously). People are looking for ways to get pumpkin spice hair 'dos. Some are going to great lengths and even getting themselves pumpkin spice deodorant in order to smell extra fresh and in season. If you're looking to up your home decor game, go find a Pumpkin Spice Latte candle (it's perfect for your coffee table).
If all that is a little too daring for even the biggest fans of fall, fear not. Auntie Anne's is offering Pumpkin Spice Pretzel Nuggets and there are plenty of pumpkin smoothies to have after a workout. Why go to Planet Fitness at any point in autumn if you can't reward yourself with a pumpkin treat?
So in short, there are plenty of ways to enjoy the season. Here's to pumpkin spice everything.