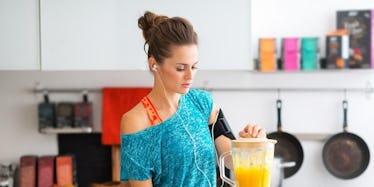 7 Best Pumpkin Spice Smoothies To Make With The Girls After Your Workout
Alliance/Shutterstock
Fall is the time for pumpkin spice everything, and if you've been hitting it hard at the gym, you probably crave something yummy and protein-packed after your workout. Whipping up a smoothie at home is a great option for a post-workout snack. And let's be honest, it's only natural that a pumpkin spice smoothie is at the top of the lists of priorities this fall. Pumpkin spice smoothies vary, but there are plenty of light and healthy ones for you to sip on after a fulfilling yoga, cycling, or kickboxing class.
The beauty in any kind of smoothie is that there isn't just one way to make them. YouTube tutorials can help you get a feel for what you should do, but you can set sail on your own quest for smoothie perfection. You can customize them to your liking, and create them to be as healthy as you need them to be. Healthy can also mean tasty these days. Plenty of sugary ingredients can be swapped with a healthier ingredients that still taste amazing. Any of these simple and yummy pumpkin spice smoothies will do the trick for your post-workout treat with your main girlfriends.
1. Sip That Pumpkin Protein
After a workout, you can be exhausted and pumped up at the same time. You don't want anything that's going to negatively affect your stride. This protein-powered smoothie is just what you need to keep that workout flow going strong.
2. We're All About This Vegan Pumpkin Pie Smoothie
Why is the vegan option always incredibly appetizing? You don't even have to be vegan to appreciate the deliciousness in not using animal products. Who knows, you could actually get used to this in your daily life.
3. You Had Me At Coconut Milk
Regardless of the milk you prefer to sip on, any variation is necessary for this perfect smoothie. If you need a sweet way to forget how much your muscles ache from a workout, here you go. Use a cute bendy straw for more moral support.
4. Seriously, Pumpkin Spice Wins All The Gold Stars
Drinking these babies may make you feel like you're floating on cloud nine... they're just that good. This heavenly smoothie includes fresh and frozen banana, organic canned pumpkin, pumpkin spice blend, water, and vanilla protein powder. BRB, going to make this.
5. Mix It Up With A Couple Of Dates
I never would have thought dates would be selected for a pumpkin spice smoothie. Dates are a fruit, not just those things you get sweaty palms over and hope call you the next day. Both can be the perfect amount of sweet, though.
6. Bananas, Pumpkins, And Almond Milk, Oh My
You and your girls deserve a quick, healthy snack after any workout date. Who cares if you're basic with yet another pumpkin themed drink. You didn't make the seasons, did you? Then carry on.
7. Pumpkin Pie For The Win
If you have time to make your own spices, that would be another healthier option for your post-workout smoothie. But if you're in a hurry to try this pleasurable, pumpkin treat, just find something in the cabinet. Pumpkin season is underway, and even if you're in and out of the gym, you can still savor all of the pumpkin fun.