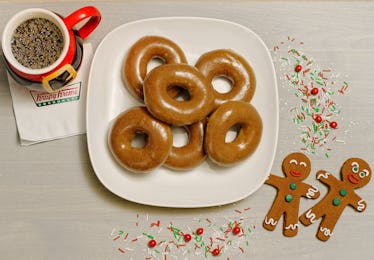 Krispy Kreme's Gingerbread Glazed Doughnuts Are Back — But There's A Catch
Krispy Kreme
Have yourself a Merry little Christmas... and a few sweets to boot (it is the holiday season, after all). Now's the time to indulge, especially considering one of your favorite dessert spots is rolling out seasonal flavors. If you're wondering when Krispy Kreme Gingerbread Glazed doughnuts are available, you're going to have to get a move on it.
These festive snacks are a big to-do in 2017. This year marks the first time that Krispy Kreme is switching up its glaze and its dough in order to harness the gingerbread goodness. The gingerbread-cinnamon-molasses combination is basically equivalent to taking a bit out of a winter wonderland.
Naturally, with such a delicious doughnut on the horizon, it seems everyone is looking forward to its arrival. The classic glazed option is all fine and dandy, but the holidays call for a little ginger spice and everything nice — just ask the higher ups.
"Gingerbread is a classic holiday flavor, and now there's a delicious new way to enjoy it with the classic qualities of our Original Glazed doughnut," Jackie Woodward, chief marketing officer of Krispy Kreme Doughnuts said in a statement. "We take the holiday fun of gingerbread houses and celebrate it with the never-ending fun of Original Glazed doughnuts."
However, just as Santa has one day to eat his cookies, you'll have one day to snag the gingerbread doughnuts.
The fun and festive flavor is making its way to participating Krispy Kreme locations on Dec. 12 in honor of National Gingerbread House Day. There will be no judgment if you stock up on a few treats... or 30. The holidays come once a year folks, and this is obviously not a time to fool around.
Since this is a one-time-only occurrence, you're going to need to savor every bite. Obviously, that calls for a post on Instagram. Krispy Kreme is encouraging fans to share a pic of their gingerbread doughnuts by using the hashtag #Gingerbread and tagging @krispykreme. This is certainly a social media task any millennial is willing to fulfill (#yum).
If you can't make it to your local Krispy Kreme on Dec. 12, don't sweat it. There are plenty of other lovely sweets to enjoy without the one-day rule. The store is also paying homage to Jolly Old Saint Nick with the Santa Belly Doughnut. It's everything you imagined — a chocolate Kreme-filled snack with red and chocolate icing. It's the perfect way to pay homage to the big man's suit. Santa baby, slip a box under the tree for me.
But Santa's not the only one getting special treatment this year. It turns out Frosty is getting a snack of his own. The Melted Snowman Doughnut (good news for you and me, bad news for the snowman) is decorated with icing and filled with Kreme. The adorable design might make you feel just a teensy bit bad, as the snowman is melting away, but it's still not going to make you pass up one of these bad boys. Frosty was a jolly happy soul... until he started to melt (the poor fella).
If Frosty's got you down, cheer up. In addition to the one-day gingerbread festivities, Krispy Kreme will also be celebrating National Ugly Sweater Day on Dec. 15. This is very good news, as those customers who by any dozen doughnuts will get a free Original Glazed Doughnut to boot. Talk about channeling the Christmas spirit.
It's safe to say it really is the most wonderful time of the year... at least when dessert is concerned. Happy holidays and happy munching. See you on line Dec. 12.
Check out the entire Gen Why series and other videos on Facebook and the Bustle app across Apple TV, Roku, and Amazon Fire TV.