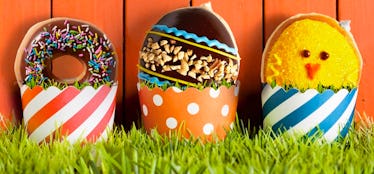 Krispy Kreme Has New Spring Doughnuts & You'll Want A Dozen Of Every Seasonal Flavor
I don't know about you, but I always look forward to spring when bone-chilling winter temperatures are a thing of the past and sunny days are more common than not. Add in some seasonal treats, and you have plenty of reasons to celebrate the arrival of spring. If you're a fan of sweet treats, then you should definitely be excited to taste Krispy Kreme's new Reese's Peanut Butter Egg Doughnut.
Krispy Kreme is taking your favorite candy from your Easter basket and turning it into your new favorite doughnut. The new Reese's Peanut Butter Egg Doughnut is available for a limited time beginning Monday, March 19. You can find the spring themed treat at participating Krispy Kreme shops in the United States and Canada, per a Krispy Kreme press release. Good news for fans of the doughnut's candy inspiration is that the Reese's Peanut Butter Egg Doughnut features the same delicious flavor combination of chocolate and peanut butter that you find yourself craving this time of year.
The doughnut incarnation of the classic Reese's Peanut Butter Eggs starts with an unglazed doughnut shell filled with a blended peanut butter Kreme. The doughnut is then dipped in Krispy Kreme's custom chocolate icing and topped with blue and yellow icing and chopped nuts to make it resemble an Easter egg. Reese's Peanut Butter Egg Doughnut basically gives you all the fun of a dyed Easter egg without having blue-stained hands for a week. That qualifies as a tasty win-win in my book.
Jackie Woodward, chief marketing officer of Krispy Kreme Doughnuts, praised the Krispy Kreme chefs and their "awesome new doughnut tastes" in the press release. "The Reese's Peanut Butter Egg is a fun, seasonal take on our delicious collaborations with Reese's," she said.
If you plan on keeping your Easter dozen (of doughnuts) super seasonal this year, then you can check out the other limited-time spring doughnuts that Krispy Kreme has to offer beginning March 19. The other two seasonal doughnuts shown on the Krispy Kreme website are the Spring Chick Doughnut and the Sprinkles Spring Doughnut.
The Spring Chick Doughnut has the same unglazed doughnut shell and features a white Kreme filling, and is dipped in yellow icing and adorably decorated with yellow crystal sprinkles, per an email from Krispy Kreme. Finally, the doughnut is finished with chocolate and orange icing features resembling a chick. The Sprinkles Spring Doughnut is more of a classic doughnut, described on the Krispy Kreme website as a Chocolate Iced Glazed Doughnut topped with vibrant pink, yellow, and green candy sprinkles to celebrate spring.
Seriously, all three of these spring doughnuts sound like a perfectly sweet way to celebrate the season.
Brightly colored spring doughnuts are not the only new treats Krispy Kreme is offering customers this spring, though. Back in January, Krispy Kreme held a contest to vote for a new flavor of Krispy Kreme's Original Glazed Doughnut, and the Lemon Glaze Doughnut took the top spot. Until recently, Krispy Kreme had only promised a spring arrival for the new citrus-flavored doughnut, but in the March 19 press release, Krispy Kreme announced the Lemon Glaze Doughnut will be available beginning Monday, April 23 until Sunday, April 29 (don't forget to mark your calendar to taste Krispy Kreme's Lemon Glaze Doughnut next month).
Finally, Krispy Kreme Doughnuts also teased some new doughnut flavors in the March 19 press release. The company announced two new doughnuts that will feature the flavors of "America's most popular cookies." Which cookies are they talking about, I wonder? The possibilities are almost endless. Could it be the springtime-only Girl Scout cookies that you know and love, or could it be a classic cookie that's always available on store shelves? As of right now, only Krispy Kreme knows that answer, but you should keep an eye out for more new doughnut details in the coming weeks.
So as you wait to find out what the newest Krispy Kreme flavors might be, you can pass the time by trying out all the new spring doughnuts on the menu. Make sure you get your fill of the new spring flavors, too, because they're only here for a limited time — and you definitely don't want to miss out on them.