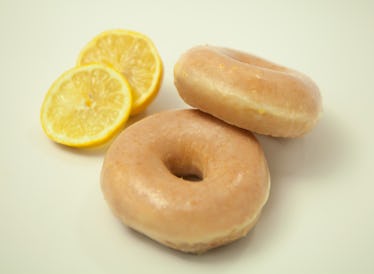 Krispy Kreme's Lemon Glaze Doughnut Is Coming & It'll Give You Summer Vibes
Krispy Kreme
When Beyoncé was served lemons, she made lemonade... and obviously, the result was incredible. But without any JAY-Z inspiration, Krispy Kreme managed to turn lemons into Lemon Glaze Doughnuts, and I am dying to try one. So if you're wondering when Krispy Kreme's Lemon Glaze Doughnut will be available, you'll be able to get your hands on one super soon. It's only around for a limited time though, so act fast.
Krispy Kreme's Lemon Glaze Doughnut was selected by Krispy Kreme fans via the company's #VoteForGlaze campaign in January 2018. According to a press release, the summery new flavor will officially be available to customers as of Monday, April 23, through Sunday, April 29, at participating Krispy Kreme restaurants nationwide and in Canada. To ensure they're sold at a shop near you, check Krispy Kreme's website locator. Pro tip: Go to your local Krispy Kreme, stock up on a ton of these, and BYO-Lemon Glaze Doughnuts to each and every lemonade stand this spring. Like Rihanna, you'll "pull up with a lemon," and you'll definitely be the absolute coolest kid on the block. Trust me on this one.
After the Lemon Glaze Doughnut was selected through the #VoteForGlaze campaign, Krispy Kreme's culinary innovation team spent months and months trying to come up with a new lemon glaze recipe. The result, accurately balances the zesty taste of a citrusy lemon and the sweetness of a signature Krispy Kreme glazed doughnut. Sour lovers, approach with caution. This sweet treat is for sugar lovers only.
In a press release, Jackie Woodward, Chief Marketing Officer of Krispy Kreme Doughnuts, said that the Lemon Glaze Doughnut results from a substantial amount of meticulous experimentation. But, she says the culinary innovation team is super excited to see what fans think.
Woodward said in a press release,
The bar doesn't get any higher than our Original Glazed Doughnut! Experimenting with the many flavor profiles lemon presents to create an all-new lemon glaze was a fun, but serious culinary challenge. There has been so much anticipation and zest for the new Lemon Glaze Doughnut, we can't wait to share the joy with our fans!
Springtime Instagrams are always gorgeous, but instead of flowers and sunshine, why not fill your friends' feeds with doughnuts? It'll definitely bring the #foodporn that everyone needs more of in their lives. While you're at it, make sure to use the hashtag #LemonGlaze and tag @krispykreme. Maybe with enough feedback, they'll make the new Lemon Glaze Doughnut a permanent menu item (I can dream, can't I?).
Once you get your fix for Lemon Glaze Doughnuts, make sure to check out Krispy Kreme's cookie-flavored doughnuts, because they're the nostalgic treat that'll warm your soul. Between the Chips Ahoy! Doughnut (which is made with real Chips Ahoy! chocolate chip cookies), and the Nutter Butter Cookie Twist Doughnut (which brings on the nuttiness with actual Nutter Butters), you'll be reveling in those '90s vibes. These cookie-flavored doughnuts are also only available for a limited time as of April 10, though, so grab one while you still can.
Based on the weather, it seems like spring apparently isn't happening this year. But now I can just fill that void with doughnuts. I'm really hoping that the zest of Krispy Kreme's Lemon Glaze Doughnuts will bring some sunshine, because they sound like the sweet treat I need right about now. While you're at it, snag some cookie-flavored doughnuts as well, since both are only available for a limited amount of time. Despite popular belief, there's no such thing as too many doughnuts. It's a doughnut world, and we're just living in it.