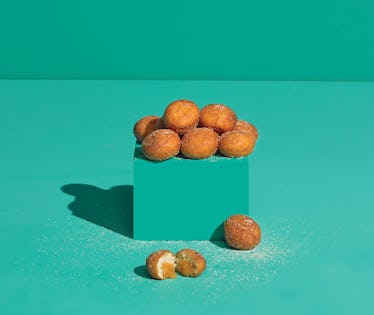 You Can Get Free Donut Holes From Papa John's On National Doughnut Day, So Eat Up
Papa John's
With National Doughnut (or Donut) Day just around the corner, now is the perfect opportunity to scout out this year's selection of deep fried freebies, no matter how you spell the holiday. While every donut chain is bound to have some delicious confection on offer on June 1, one deal caught my eye in particular — because, one, you've definitely never tasted these donuts before, and, two, you can chase your complimentary sweet treats with a hot slice of pizza. Here's how to get free Papa John's donut holes for the first time on National Doughnut Day, and maybe even score a New Zealand getaway in the process.
Starting on June 1, Papa Johns is giving you the perfect excuse to wash down your pepperoni pie with a couple of sugar-coated, caramel-filled desserts, completely gratis. According to a press release, customers can score an order of Papa John's brand new Donut Holes free of charge on National Doughnut Day simply by making an online pizza order. Yep, it's really that easy to live your best donut life.
Considering Papa John's track record of churning out doughy goodness, you can bet that their Donut Holes will be just as delicious as their 'za, and they're also made with high-quality ingredients. According to a press release, the Donut Holes "contain no artificial flavors or synthetic colors," so you can feel really good about eating all the sweet bites your heart desires.
While the mini confections unfortunately don't come in a range of flavors and styles for more experimental tasters, I love that the bite-sized sweets are coated in cinnamon sugar and filled to the brim with caramel crème. Plus, even if you don't feel like ordering a pizza, you can still try out the new limited-edition Donut Holes for a steal. For 10 pieces, they're only $4.99, so you'll have plenty of dough left to try out all the other offerings on National Doughnut Day as well.
Even if you don't get a chance to snag the new Donut Holes on June 1 (it's a Friday, after all, and happy hour calls), this cinnamon-topped treat will also be around for a limited time this summer. The bargains aren't going anywhere either, because starting June 2, you can use the promo code "DONUT" to get a free order of Donut Holes with any purchase of two people. There's literally no reason not to satisfy your donut cravings this summer.
As if they needed any excuse to sweeten the deal, Papa John's also revealed that returning to grab a box of these snacks after June 1 can potentially score you a free getaway to — you're never going to guess — Donut Island.
Yes, this island is a real place, and it's apparently one of New Zealand's most beautiful attractions along the coastline. Also known as Whenuakura Island, this tropical isle boasts a pristine lagoon, a stunning rocky landscape, plus close proximity to the ocean. You're basically going to want to live here with your box of donuts.
To enter the Dreaming of Donuts Island Getaway Sweepstakes, all you have to do is order Donut Holes online or through Papa John's app from Saturday, June 2 through Saturday, June 30, and opt into the sweepstakes. If you're the lucky customer who's selected, you and a guest will get to enjoy eight days and seven nights in paradise with an all-expenses-paid vacation in the Coromandel region of New Zealand, including a stay on Donut Island.
Free Donut Holes, a slice or two of pizza, and a chance to win a tropical vacation to New Zealand? This might be the sweetest deal I've seen yet for National Doughnut Day, TBH. Papa John's is totally spoiling us, but who's complaining?