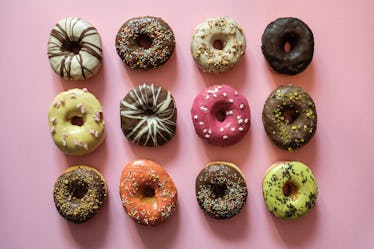 Here Are The Places You Can Get Free Donuts On National Donut Day
Mark your calendars, because National Doughnut Day is happening on Friday, June 1. Doughnut chains across the country will be offering free or discounted doughnuts to make your Friday that much sweeter. You're welcome. From traditional glazed to chocolate sprinkle, save some dough by chowing down on these breakfast bargains. Here is where to get free doughnuts on National Doughnut Day.
Before you take advantage of these tasty deals, let's briefly explore the history of the celebratory day. The more you know, right? National Doughnut Day, which is held on the first Friday of June each year, got its "official" start in 1938 thanks to The Salvation Army. The organization decided to honor the women known as "Donut Lassies," who served donuts and coffee to the troops during World War 1.
This started back in 1917, when roughly 250 Salvation Army volunteers traveled overseas to provide clothes and supplies, as well as baked goods to soldiers near the front lines. Given the conditions of war, it was not easy for the women to bake in the huts, so a few volunteers began frying doughnuts in helmets.
Today, the unofficial holiday is good for enjoying deals on doughnuts, but still pays tribute to the "Doughnut Girls" of World War 1. There you have it. There's no disputing that doughnuts are a longstanding food item that bring us together in the most delicious way possible.
Here are some sweet deals you "doughnut" want to miss this National Doughnut Day.