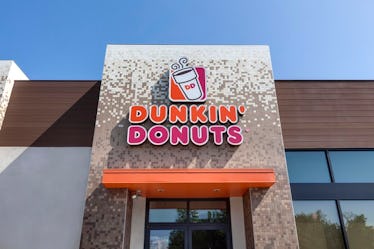 Dunkin' Donuts Just Dropped Cake Batter Donuts & They Sound So Sweet
In case you don't have a National Donut Day countdown set (guilty), I'll remind you that the sweetest holiday of the year is right around the corner on Friday, June 1. Ahead of that glorious day, though, Dunkin' Donuts is releasing two new delicious donut flavors reminiscent of your favorite treats that are usually found in the dessert case. Dunkin' Donuts' new cake batter donuts are here just in time for National Donut Day, and they are the sweetest way to start your morning.
Your eyes do not deceive you. Dunkin' Donuts does, in fact, have two new donut flavors that will give your favorite dessert a run for its money. Per a press release, the Chocolate Cake Batter Donut and the Vanilla Cake Batter Donut will be available for a limited time at participating U.S. Dunkin' Donuts restaurants beginning on Monday, May 28. Both confections come complete with cake batter filling and sprinkles, so you know you're really getting the full-on dessert treatment with these new donuts.
Believe me, you'll want to get your hands (and taste buds) on both flavors once they arrive on May 28. The Chocolate Cake Batter Donut is filled with a "chocolate buttercreme filling," slathered with chocolate icing, and topped with vibrantly colored confetti sprinkles. The Vanilla Cake Batter Donut opts for a vanilla-flavored cake batter filling and vanilla icing, but it's topped with the same colorful sprinkles.
Honestly, both of these dessert-inspired donuts sound like a deliciously sweet way to begin your day.
You can even celebrate National Donut Day on June 1 with whichever flavor pleases your palette. These new cake batter donuts are not included in Dunkin' Donuts' deal celebrating National Donut Day on June 1, but you can definitely still purchase one if cake batter filling is now the only thing you crave (I can totally relate).
If you are in the market for a free donut (yes, please), you can still make it work. Dunkin' Donuts will offer one free classic donut of your choice with the purchase of any beverage on June 1. The classic donut choices are nothing short of delicious. You have some crave-worthy options that include: Boston Kreme, Glazed, Glazed Chocolate, and Strawberry Frosted with Sprinkles. Any one of these donuts would be the perfect way to celebrate National Donut Day.
Dunkin' Donuts is even sprucing up the look of its classic donuts, per the release. For instance, the Boston Creme Donut will be known in participating restaurants as the Boston Kreme Bash, which comes complete with a perfect-for-summer bright blue icing drizzle atop its chocolate frosting. If you're more into fruit flavors, try the Strawberry Spectacular, which will delight you with its strawberry frosting and confetti sprinkles.
Cake batter donuts and a free donut should be enough to celebrate National Donut Day, right? Nope! Dunkin' Donuts is also introducing another new donut flavor called the Sweet Summertime Donut. To celebrate the season of sunshine, select Dunkin' Donuts restaurants will serve this specialty donut that features a sunshine design in its colorful blue frosting and yellow icing drizzle. That's not all, because the Sweet Sunshine Donut isn't ready for you until it's finished off with a Glazed Old Fashioned Munchkins donut hole right there in the center of it.
I'll take a dozen of everything, please. Dunkin' Donuts is seriously rocking an all-star lineup of your favorite breakfast pastries, so I'd get to your nearest location as soon as you can to enjoy all the donut goodness. Plus, with the new cake batter donuts, you can totally swing by after dinner and treat yourself to a Chocolate Cake Batter Donut or Vanilla Cake Batter Donut (or both!) since they're basically a dessert-breakfast hybrid. Really, you can't go wrong with whatever new circular sweet strikes your fancy, so hurry up and visit your favorite Dunkin' location to get in on all the new flavors.