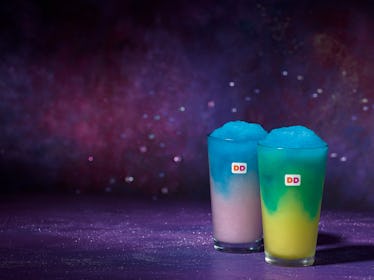 Dunkin' Donuts' New Cosmic Coolatta Drinks Will Light Up Your Instagram
Dunkin' Donuts
One of my favorite things about living in the city is eating all of the unique varieties of food. Offering a diverse range of cuisines, New York is known for having some of the most delicious — and most Instagrammable — food on the planet. But you don't have to live in New York City to devour (and photograph) Dunkin' Donuts' Cosmic Coolatta drinks, because they're available nationwide... and if you haven't already seen them, they look out-of-this-world.
On Monday, April 30, Dunkin' Donuts released two of the most far-out drinks known to mankind, called the Cosmic Coolattas. Guaranteed to skyrocket your Insta-game to another planet, the Cosmic Coolattas come in two flavors: the Cosmic Cotton Candy, which features the new Cotton Candy and Blue Raspberry flavors, as well as the Cosmic Pineapple, which consists of the Pineapple and Blue Raspberry flavors. Both sound absolutely delicious, and they're seriously #OmbreGoals.
Unfortunately, according to the press release, DD's intergalactic Cosmic Coolattas are only available throughout the summer at participating DD locations nationwide, so make sure to knock 'em back while you can. Regardless of how long they'll remain on our planet, though, they're guaranteed to send your #foodporn game to the moon with their beautiful colors and undeniable grooviness. I'm not sure what causes a natural phenomenon like these, but with my limited astronomy knowledge, all I can say is that these have some serious airglow.
The best part is that you can slurp up a bunch of these for a lost cost. To cool off for summer, according to a press release, Dunkin' is selling any of their small-sized Coolattas for only $2. This includes the Cosmic flavors, as well as any other flavor, such as the Strawberry, Blue Raspberry, Watermelon, the new Cotton Candy, and the Pineapple flavor. This offer is also available for a limited time at participating Dunkin' Donuts locations until May 27. Definitely take advantage of this deal as much as possible, because $2 Coolattas are a bargain you won't want to miss.
If you'd like an annular accomplice with that Coolatta, make sure to shoot for Dunkin' Donuts' new Comet Candy Donut. According to the press release, this celestial sphere is topped with white icing and pink, blue and purple cotton candy flavored popping candy, which makes for a constellation of flavor. It'll also only be at DD for the summer at participating restaurants nationwide, though, so get 'em while they're hot (and while they're still in this galaxy, of course).
After you've gone to the moon and back with these glowing treats, you might find yourself seeking out something entirely new... and what you may need is a serving of doughnut fries. Apparently, DD is currently testing out cinnamon-sugar covered fry-shaped snacks, and if they end up making it to the menu, they'll only cost $2. While they were only being tested in "a small number of its restaurants in the Boston market," earlier this month (according to a spokeswoman), they sound like the road trip snack of my dreams.
As everyone needs a little more #foodporn in their lives, Dunkin' Donuts is coming out with some of their most 'grammable treats yet. The Cosmic Coolattas and the Comet Candy Doughnut are sure to fulfill all of your intergalactic Instagram-related needs for lightyears. While their aesthetic is totally on point, I'm especially looking forward to tasting the new summery Cotton Candy Coolatta flavor. And for only $2 until the end of May, you can bet all of your meteoroids that I'll be slurping these babies for days. Operation brain freeze is on its way.