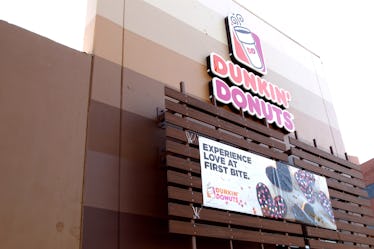 Donut Fries Might Be Coming to Every Dunkin' Donuts & I've Never Been So Excited
Tommaso Boddi/Getty Images Entertainment/Getty Images
For those who hate to choose between sweet and savory foods, have I got some great news for you. Rumor has it that Dunkin' Donuts "Donut Fries" might soon be coming to a store near you. This is without a doubt the best day ever.
OK, so I love doughnuts, and I love fries, but when you put the two together I get a little confused. But from the description, the treat sounds like everything good about both snacks: Doughnut fries are delicious cinnamon-sugar covered treats, that are shaped like actual french fries. Literally the best of both worlds. According to a Dunkin' Donuts spokeswoman, the coffee and doughnut giant is testing out doughnut fries as a part of their new $2 snack menu. The spokeswoman told Boston.com that the company is testing the product at "a small number of its restaurants in the Boston market."
Not sold on the idea of doughnut fries quiet yet? Don't worry, there's something on this menu for everybody. According to a promotional photo provided by Dunkin' Donuts, the $2 snack menu will also include Munchkin dippers, waffle-breaded chicken tenders, pretzel bites with honey mustard sauce, ham-and-cheese roll-ups, and gluten-free brownies.
Do you hear that? That's me rolling up to the Dunkin' Donuts drive-thru line. Hear that again? That's me eating literally every single item off of this menu. Hear that again? That's me crying at how delicious all of it is going to be.
I'm clearly not the only one eagerly anticipating this possible release. Since fans found out about doughnut fries, they've been fighting to get their hands on it.
Spoiler alert: everybody loves them.
Sadly not all of us can be in Boston for this beautiful moment, but for those who actually do live in Boston, you can grab these tasty tester treats at locations including 265 Franklin St. in Boston, the 100 Harborside Drive location outside Boston's Logan airport, and the chain's new concept store at 588 Washington St. in Quincy, according to Boston.com.
All of these menu items sound delicious, but a brutally honest review from a Reddit user shows that some more work might need to be done to these snack items.
The user wrote,
I tried the pretzel bites and they were great but they use Kens honey Dijion sauce and should use kens honey mustard instead. I also tried the Donut fries and those need a dipping sauce but they were good. Lastly I tried the waffle breaded chicken and that was gross because they were way too greasy. The batter is the same batter used in the pancake bites that they used to have.
Dipping sauce or no dipping sauce. I need those doughnut fries.
This might be the most recent exciting news from Dunkin' Donuts, but this chain is just getting started. On March 29, the company revealed that they would be introducing a new doughnut to their menu starting April 2. The Caramel Chocoholic Donut is literally the perfect blend of "caramel icing, sprinkled with semi-sweet chocolate curls, and finished with a drizzle of caramel icing," according to a press release provided by Dunkin' Donuts.
But wait, we're not done yet, we're just getting started.
What's a doughnut without a great cup of coffee to go with it? The chain might be known for their sweets, but there's no denying that they also whip up a mean (and affordable) cup of joe. Well, according to the company, they'll be giving away free cold brew coffee samples on April 6 to celebrate spring, while supplies last that is.
A caramel-chocolate doughnut, free cold brew, and now doughnut fries? What did we do to deserve all of this love? I'm certainly not complaining.
Truth.
Even though I'll be thinking of those doughnut fries until they're physically in my hands, the company is waiting to hear feedback from customers, franchisees, and employees about the new snack items. If the reception is positive, there could be "a possible national rollout" in the future, the spokeswoman told Boston.com.
Donut worry, I've truly never been happier.