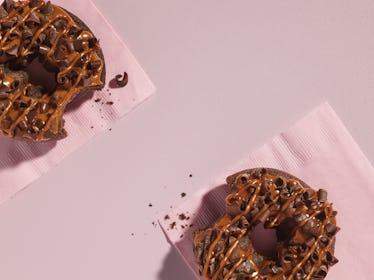 Dunkin Donuts Is Releasing A New "Chocoholic" Donut & OMG, It Looks Delicious
I have to admit that chocolate is pretty much always on my mind. It doesn't matter what the weather is like, what time of year it is, or even what time of day it is — any time is the right time for a chocolate treat. If you're similarly a fan of the sweet stuff, then you are going to love the newest Dunkin' Donuts menu item. Dunkin' Donuts' Caramel Chocoholic Donut is every chocolate fan's dream come true, and you're going to love it.
In a Dunkin' Donuts press release on Thursday, March 29, the doughnut company announced its newest creation, and you might want to brace yourself for the description of this caramel-chocolate wonder. The Caramel Chocoholic Donut starts out as the classic chocolate donut that you know and love. It's then "frosted with caramel icing, sprinkled with semi-sweet chocolate curls, and finished with a drizzle of caramel icing," per the release. This donut sounds like it tastes seriously delicious, and I think everyone should probably mark down the date of its arrival on the menu.
This delectable flavor combination will be available on the Dunkin' Donuts menu Monday, April 2 (perfect timing to fulfill that sweet tooth craving after you've finished all your Easter candy). The Caramel Chocoholic Donut is the latest spring offering from Dunkin', and you can find it at participating Dunkin' Donuts restaurants across the United States.
Earlier in the spring, Dunkin' released the Spring Fling Donut, which comes complete with all the perfect pastel colors of the season. As described in the release, "The Spring Fling Donut is a classic frosted donut." It's frosted with "all the colors of spring" thanks to purple icing and "colorful flower sprinkles." Alright, you might have to go half and half with the Spring Fling Donut and the Caramel Chocoholic Donut when you order a spring morning dozen donuts this season (since they both sounds super delicious). You can even spring for a dozen of each spring donut flavor and become the office favorite.
Of course you'll probably need something to wash down your Caramel Chocoholic Donut, so it's a good thing Dunkin' totally has your back in the coffee department, too. Dunkin' Donuts has long been a go-to spot for the best coffee and iced coffee you could ever want — and now you can also choose to start your morning with Dunkin' Donuts Cold Brew. Per the release, the Dunkin' Cold Brew is handcrafted in small batches "by steeping a special blend of coffee in cold water for 12 hours."
The longer than normal steeping time is what gives the Dunkin' Cold Brew its unique flavor. Dunkin' Donuts Cold Brew is described on the website as a "velvety brew" that is "like no other." Per the release, you'll get a sweeter flavor than regular iced coffee when you drink Dunkin' Cold Brew, and you'll even taste hints of a flavor reminiscent of dark chocolate. Did someone say chocolate?! Sign me up.
Clearly Dunkin' Donuts is killing the game when it comes to providing delicious donuts and coffee that you cannot get enough of, but the doughnut and coffee chain has recently expanded its offerings beyond tasty sips and bites.
Dunkin' Donuts has teamed up with Saucony to create a sneaker, and now you can pre-order these Dunkin' Donuts Saucony sneakers to, as the brand says, run on Dunkin'. They are seriously cool-looking with the brand's signature pink and orange colors, so you'll feel right at home when you stroll into your local Dunkin' Donuts to buy a dozen Caramel Chocoholic Donuts and a Dunkin' Cold Brew.
The sneakers are clearly a different offering than you're used to from the brand, so if you want to keep it classic, you can stick to the delicious donuts and drinks that you always find yourself craving. Whatever new offering you choose to try, you really can't go wrong when you celebrate spring with a little help from Dunkin' Donuts.