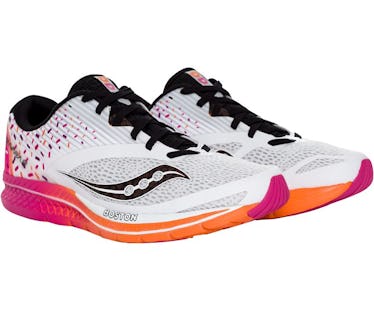 Dunkin' Donuts Now Has Sneakers, So You Can Literally Run On Dunkin'
Dunkin' Donuts
As someone who's not at all athletic, I've never wanted to run a marathon more than right now. Dunkin' Donuts and Saucony, two Boston-based brands, have teamed up for a scrumptious collaboration in honor of the Boston Marathon. Here's where to buy Dunkin' Donuts Saucony sneakers so you can quite literally run on Dunkin'.
Saucony creates a limited-edition shoe for the Boston Marathon every year, and according to a brand representative, at this year's brainstorm meeting the staff sat down to drum up ideas as usual. The group happened to be sipping on some delicious Dunkin' Donuts coffee during the fated meeting — and thus a doughnut-shaped light bulb went off and the dream team was born.
If you're thinking that coffee and doughnuts are an odd thing to associate with running a marathon, you'd be wrong. According to Strava, a social network and fitness tracker for runners, coffee was the number one food or beverage item mentioned among their tens of millions of subscribers in 2017, and doughnuts were number six.
Additionally, Saucony athlete and Boston Marathon runner Tim Ritchie is a Dunkin' Donuts aficionado. Ritchie reportedly mapped out all of the Dunkin' Donuts locations along the Boston Marathon route while training in case he gets a craving, and you'll be pleased to hear that there are 18, giving new meaning to the term coffee break.
The Saucony x Dunkin' Kinvara 9 sneakers are currently available for pre-order with other purchasing opportunities down the road, so feast your eyes on the most appetizing footwear you've ever seen and prepare for some shopping.
Saucony's Kinvara 9 shoe is recognized for its EVERUN sole which gives extra cushioning and stabilization, whether you're running 26.2 miles or walking two blocks to your closest Dunkin' Donuts location. The limited edition Dunkin'-designed shoe also features a sweet pastry print, the soles are ombre dyed with Dunkin's signature pink and orange colors, and I spy some delectable sprinkles.
The heels of the shoes have matching strawberry frosted doughnuts with rainbow sprinkles, and now I'm drooling. The coffee shop's famous slogan, "America Runs On Dunkin'" is emblazoned in a reflective stripe down the back as well.
Iced coffee season is nigh, and the right inner sole of these shoes teases a cool Dunkin' Donuts beverage that I'm sure would be a nice post-marathon treat (after rehydrating with water, of course). The left shoe pictures hot coffee for heathens that drink it year-round. The sneakers also come with three sets of laces: black (as shown above), orange, and magenta, so you can customize your kicks.
"Boston" is printed on the outer sole of the runner to remind its wearer and onlookers where this partnership was brewed up. And if you look closely, inside Saucony's trademark river logo is a coffee bean print that will motivate you to get to the finish line (where there's coffee).
The shoes also come in a delightful Dunkin' Donut-themed shoe box. I may be a little sad when I open it to not find any actual doughnuts, but those are easy enough to acquire.
The shoes are available in women's sizes five through 12 and men's sizes seven through 15. They're currently available for pre-order through Saucony and will be sold at Marathon Sports stores and online beginning April 3. And if you're in the Boston area, you can go by the Saucony booth at the John Hancock Sports & Fitness Expo between April 13-15 to snag a pair.
Doughnuts are one of the few things that will get me to attempt to run, so I give major props to anyone actually running the marathon.