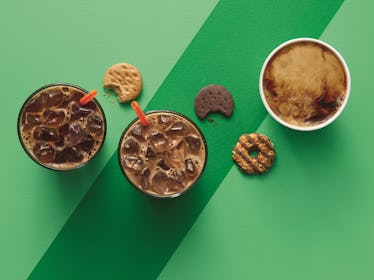 Girl Scout Cookie-Flavored Coffee At Dunkin' Donuts Comes In So Many Perfect Flavors
Dunkin' Donuts
When I wake up most mornings, I tend to crave something sweet. Not like, cake, but a sweet little something to get my day started. Whether it's something a little chocolatey, or maybe a more peanut buttery, there's literally nothing better than a small sugar rush before work. And, as you may have already heard, DD recently came out with some hella sweet new coffee flavors. So, if you haven't already discovered what Girl Scout cookie-flavored coffees are at Dunkin' Donuts right now, we totally have you covered.
First and foremost, the flavor I am most excited to try is the Coconut Caramel coffee. If you think about it, that's really just another way to say Samoa-flavored coffee. And listen, I don't know about you, but I could probably eat an entire box of Samoas in one sitting and not even be upset about it. Samoas are sticky and gooey on the outside, combining chocolate and caramel, with a crunchy cookie on the inside. They are literal heaven. According to a Dunkin' press release, Coconut Caramel tastes like a dangerous combo of toasted coconut, combined with creamy caramel. And if that isn't enough to get your heart racing, I'm not entirely sure how you live your life.
The next flavor, which I'm totally dying to try, is the Peanut Butter Cookie flavored coffee, aka... it tastes exactly like Do-si-do's, and I'm already obsessed. The thing I love about Do-si-do's is that they don't mess around with the PB flavor. It's a straight-up peanut butter cookie sandwich, with creamy peanut butter in the middle, and there's seriously nothing better than that. Per the press release, this is DD's first-ever PB-flavored coffee, and it actually doesn't have any allergens, so no matter the allergy, anyone can have in on the fun. The future really is peanut butter coffee, people, and it sounds like a dream come true.
Finally, we come to the crowd favorite, which is straight up called Thin Mints coffee *cheers.* I don't know about you, but I personally prefer Thin Mints when they come right out of the freezer. It seriously tastes like chocolate mint ice cream, and if you haven't tried it, now is probably the right time. If you end up falling in love with frozen Thin Mints, consider getting this in the form of an iced coffee, an iced latte, or a frozen chocolate. You won't regret it, I swear.
Per the release, each of of Dunkin' Donuts' new Girl Scout coffee flavors are actually available basically however you want. You can get it the form of hot or iced coffee, a latte, a macchiato, frozen coffee, and even frozen chocolate. So whether you're looking for something to warm you up, cool you down, or if you're in the mood to get all of the cookie taste without a strong hint of coffee, you can literally get the Girl Scout cookie beverage of your dreams. It's a pretty unreal deal and I'm planning on trying every flavor in each possible form (sorry not sorry, wallet).
Although this is literally a dream come true, all dreams eventually come to an end. That's right, this Girl Scout flavored coffee is actually a limited time deal. Just make sure you get to a DD in the next two or three months. Per a Dunkin' Donuts rep, there's no exact date when it'll stop being available, but it's basically while supplies lasts... which I guess is expected to be until the end of May. Don't wait until the last second, but it seems to be strictly a spring treat, and that's all you need to remember. Just make sure to get it while you still can.