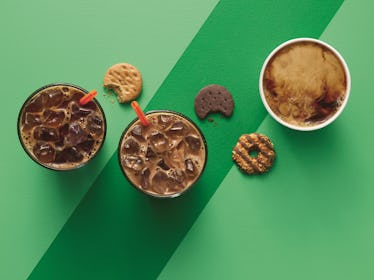 Dunkin' Donuts' Girl Scout Cookie Coffees Won't Be Available Forever, So Get Yours Now
Dunkin' Donuts
I'm not a particularly nostalgic person, but when it comes to Girl Scout cookies, I'm a total sucker. Whether I'm sinking my teeth into a chocolatey caramel Samoas, or if I'm munching on some Thin Mints (which just came out of the freezer, obviously), I'm immediately transported back to the days of Saturday morning cartoons and not paying rent. It's kind of the dream. And as Dunkin Donuts just came out with a new line of caffeinated drinks, resembling the flavors of Samoas, Thin Mints, and Do-si-dos, you're probably wondering how long Dunkin' Donuts' Girl Scout Cookie coffees will be available, right? Well, the answer already has me mapping out my next coffee break.
I've only been able to read about the sweet new coffee flavors so far, and — I won't lie — each flavor sounds like they're most definitely worth trying. Between a Thin Mints flavor, a Coconut Caramel flavor, (aka Samoas), and a Peanut Butter Cookie variety (which is basically Do-si-dos), per a Dunkin' Donuts press release, there's no way I'd be able to merely try just one flavor. Each new cookie coffee became available on Monday, February 26, and they're being served through the end of May, or while supplies last, a rep for Dunkin' Donuts confirmed to Elite Daily. Although the Dunkin' Donuts rep wasn't able to lock down an exact date for when the coffee brand will stop selling the coffees, coffee fanatics have an estimated three months to indulge. Even though that's enough time to try each flavor several times, I'm making a point to soak up as much Girl Scout Cookie coffee as possible, thank you very much.
The best part of the Girl Scout Cookie coffee flavors, if you're not a fan of straight-up hot or iced coffee, per the release, is that you can get any of the flavors in the form of a latte, macchiato, frozen coffee, or a frozen chocolate (which, in my opinion, sounds beyond divine). Even though disliking coffee is pretty much incomprehensible to my feeble and totally coffee-addicted mind, you can get the same nostalgic cookie taste in so many beyond-amazing ways... plain coffee doesn't even have to be an option.
It's pretty hard to order cookies directly from actual Girl Scouts at my age, since all of my friend's younger siblings have grown up... and (thankfully) none of my friends have kids yet. But if you're like me and you're absolutely desperate to get some cookies this season, some Dunkin' Dontus locations are actually letting Girl Scout troops to sell cookies in their restaurants to celebrate women in business. Just look up participating locations on the Girl Scout cookies website, or through the Girl Scout Cookie finder app... because personally knowing a small child is no longer a requirement to get a damn box of Tagalongs.
Barry Horowitz, the Chief Revenue Officer of Girl Scouts USA, is super excited to work with Dunkin' Donuts this year to sell cookies. He feels super grateful that the brand is teaching the importance of entrepreneurial skills to young girls, because TBH, that's hella important, especially nowadays. Horowitz said in a statement,
GSUSA is pleased to work with Dunkin' Donuts to showcase the power of the Girl Scout Cookie Program. Not only do girls learn important business and entrepreneurial skills, but they put their earnings toward impactful community projects and leadership experiences—so we are grateful to Dunkin' Donuts for opening up their restaurants around the country to our cookie entrepreneurs!
Sooo, I'm not entirely sure how many times you were planning on getting Girl Scout Cookie coffee this season, but if it were possible to get an IV of the Samoa flavor, I'd undoubtedly do it. Since coffee and cookie fans only have until the end of May to get it, hoarding as much as possible is imperative... and, in all honesty, I'm already on my way for another medium iced Thin Mints. #SorryNotSorry.