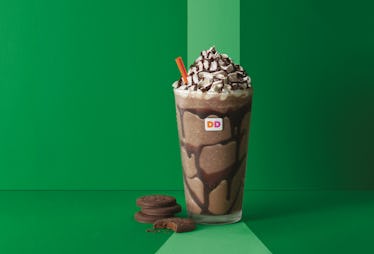 Dunkin' Donuts Is Releasing Girl Scout Cookie-Flavored Coffee & You'll Love It
I proudly called myself a Girl Scout until about fourth grade, when I traded in my sash for softball cleats... but I never stopped loving those hella classic Girl Scout Cookies. During cookie season, my mom would always buy several boxes of Thin Mints, Samoas, and Do-si-dos for my entire family, and I honestly couldn't get enough of them (and still can't). If you're craving the taste of those Girl Scout Cookies everywhere you go, Dunkin' Donuts' Girl Scout Cookie coffee flavors are the tasty caffeinated treat of your dreams.
Somehow, this is the first time Dunkin' has collaborated with Girl Scouts to create new coffee flavors, and now that they've finally joined forces, I'm honestly shook. On Monday, Feb. 26, Dunkin' is officially releasing three Girl Scout Cookie-inspired coffee flavors, which include Thin Mints, Coconut Caramel, and Peanut Butter Cookie (which, OMG, are actually my three favorite Girl Scout Cookie flavors, I'm not even lying). Each cookie-flavored coffee will be available at all participating Dunkin' Donuts restaurants nationwide until May, so definitely drink up while you can.
According to the press release, the Thin Mints-flavored coffee mimics the refreshing minty and chocolate tastes of Thin Mints, while the Coconut Caramel combines coconut with the full-bodied taste of caramel... aka, Samoas in a cup (yaaas). The Peanut Butter Cookie-flavored coffee (aka, the Do-si-dos flavor), imitates the taste of peanut butter without actually using any nuts (which is a peanut-free miracle). Each cookie-flavored coffee can be made into a hot or iced coffee, latte, macchiato, frozen coffee, and even frozen chocolate — so get your wallets and bendy straws ready, people, because I am going to go ham on these limited time flavors.
DD initially revealed the new, highly-anticipated coffee flavors (after way too long) through a Facebook Live event in Savannah, Georgia. Apparently, Savannah, Georgia is the birthplace of Girl Scouts of the USA... hence their famous cookies, Savannah Smiles.
According to the press release, Dunkin' Donuts and Girl Scouts are also collaborating to celebrate female entrepreneurship this year. Between Feb. 24 and Mar. 18, Certain Dunkin' Donuts locations will be inviting Girl Scout troops to sell cookies in their restaurants. So, if you're craving a cookie and an iced coffee at the same time (which, I obviously always am), you can simply locate participating locations on the Girl Scout Cookie website, and also on the Girl Scout Cookie finder app, which exists for iOS and Android users (plus, it's free). Man, is that dangerous or what? I'm about to buy a truckload of cookies from every Girl Scout in Brooklyn, BRB.
According to Dunkin's Senior Director of Integrated Marketing, Patty Healy, Girl Scout Cookie flavors and coffee are a perfect match. TBH, I'm a little surprised nobody thought of this earlier. On behalf of Dunkin' Donuts, she said in a statement,
Our guests have come to expect and enjoy fun, innovative flavors from us, and what could elicit more smiles than the iconic taste of Girl Scout Cookie inspired flavors in your favorite Dunkin' Donuts coffee? It's a natural fit and a powerful combination. We are especially proud that our franchisees, many of whom are small business owners themselves, are committed to fueling the entrepreneurial spirit of the Girl Scouts by welcoming local troops to sell cookies at their restaurants.
So if you're dying in anticipation of these new flavors, I guess I'd just recommend eating a Thin Mint while drinking some coffee in the meantime. But if you can wait until Monday, Feb. 26, you'll probably see me in line at Dunkin'. Again, the cookie-flavored coffee is only available until May, so get them while you can.