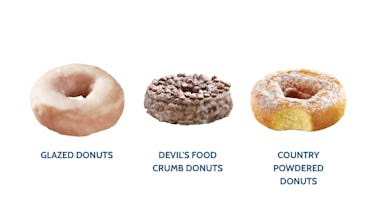 This Company Is Hiring A Chief Donut Officer & I Can't Apply Fast Enough
National Donut Day may not be until June 1, but one company is celebrating the sweet holiday a little early this year. This isn't your average discounted donut or a buy-one-get-one deal, either. Entenmann's is giving one lucky person the chance to live out every donut-lover's dream. Here's how to become Entenmann's Chief Donut Officer for a chance to take home the greatest (and tastiest) prize ever.
Entenmann's announced the contest to find a Chief Donut Officer in a press release on Monday, May 7. Now, you might be wondering what the job duties of a Chief Donut Officer entail. Per the release, it's merely an honorary title that will be bestowed upon one lucky winner. While the title may be honorary, the prizes are all real — and they are really good.
If you want to be in the running to win the $5,000 grand prize, all you have to do is fill out the entry form on the Entenmann's website. You can enter from May 7 through June 30, 2018. You'll answer questions that inquire how you'll "spread the love of Entenmann's Donuts" and your plans to "make Entenmann's Donuts even better." To stand out from the crowd, your answers should convey how much you enjoy Entenmann's donuts and reveal your best ideas for new products and donut flavors (all those daydreams about donuts are finally about to pay off!).
U.S. residents 18 years and older are eligible to enter the contest, and you can only enter one time throughout the entry period — so make your answers count!
Jason Amar, Director of Marketing at Entenmann's, expressed in the press release how excited the brand is to find its Chief Donut Officer. Amar said,
Our iconic, one-of-a-kind donuts have been a cornerstone for the brand for decades and have gained an extremely passionate following over the years. Timed to our favorite holiday of the year — National Donut Day — we want to honor our biggest fans by officially welcoming one to our Entenmann's family.
Once all the contest entries are collected on June 30, the responses will be judged on "passion, creativity and originality," per the release. Five finalists will be chosen by the judges, and all the finalists will then share in a video testimonial why they deserve to be the Chief Donut Officer. Once the videos are submitted and the finalists plead their best case, the decision will be put to a public vote from July 26 through Aug. 2, 2018. All five videos will go up on the Entenmann's website, and it will be up to the people to decide who is most worthy of the Chief Donut Officer grand prize. So, if you're chosen as a finalist, you better make your donut pride known.
Once again, the grand prize comes with the coveted honorary title of Chief Donut Officer, $5,000, a year's supply of Entenmann's Donuts, and some sweet Entenmann's-branded gear. I know, you probably want to start printing out your Chief Donut Officer business cards and collect all the goodies that come along with it. While winning the grand prize is the goal, you could also come away with a cool $1,000 if you make it into the finalist round. That's right, the four runners up will each win $1,000 and a year's supply of donuts — not too shabby for second place.
The winner will be announced on Aug. 7, 2018, but you can celebrate the contest in the meantime when you pick up specially marked Chief Donut Officer Contest box of Entenmann's Donuts now through June 30.
If all this talk of donuts has your sweet tooth aching a little more than usual, you can also satisfy it with Krispy Kreme's new cookie-flavored doughnut collection. The collection includes Chips Ahoy! and Nutter Butter inspired breakfast pastries, and a tasting with all the donuts sounds like the perfect way to celebrate National Donut Day next month. As any good Chief Donut Officer would say, "There's always room for more donuts, right?"