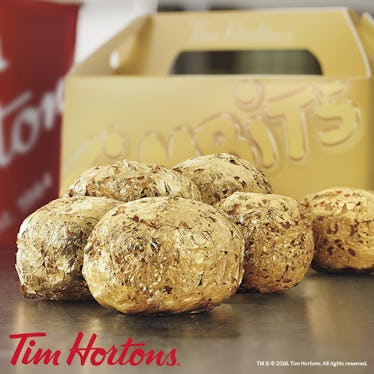 Tim Hortons Is Offering This Sweet Deal For National Donut Day & It's A Golden Opportunity
You guys, with the unofficial start of summer right around the corner, it's time to make sure that your calendars are marked with all the most important dates of the season. One holiday you definitely don't want to forget is National Donut Day on Friday, June 1. You are especially in luck on this sweet day if you live near a Tim Hortons, because the restaurant is offering a deal that cannot be missed. Without further ado, here's how to win free Tim Hortons donuts for a year on National Donut Day.
You probably expect donut chains to offer some kind of deal on the holiday celebrating the round breakfast pastry you know and love, but this is the mother of all deals. Not only do you have a chance win free donuts for a year, but you'll also get a box of specialty Timbits to boot. Actually, you first need to be the lucky person who wins the 24k Gold Timbits, and then you can enjoy all the free donut goodness you want for the next 365 days.
OK, this might sound a little confusing, but it is really pretty simple if you want a chance at the grand donut prize.
On Friday, June 1, five specially-selected Tim Hortons restaurants in Buffalo, New York; Columbus, Ohio; and Detroit, Michigan will each serve one box of the 24K Gold Timbits, according to Tim Hortons. The golden Timbits are free to the first person in the restaurant to ask for the "Gold Timbits." The lucky customer who is the first person to snag the Gold Timbits in each one of those five locations will also win free donuts for a year.
See? It's pretty simple to enjoy free donuts from Tim Hortons all year long (as long as you make sure you set a very early alarm for that morning). Basically, if you live in Buffalo, Columbus, or Detroit and have a Tim Hortons near you, you should clear your calendar for Friday, June 1. Remember, only five people will be the lucky donut winners.
Free donuts for a year is enough to be excited about (and get you up at the crack of dawn), but you'll also be one of only five people to taste the sweet goodness of the 24k Gold Timbits. Timbits are Tim Hortons' version of donut holes, and these exclusive golden bites are dipped in honey and covered in edible 24k gold. If you think you're excited about this fancy Timbit, then you have to hear how pumped Tim Hortons is to be able to offer this opportunity to its customers.
Shawn Thompson, regional president of Tim Hortons U.S., shared in the press release,
Here at Tim Hortons we're always looking for a way to treat our Guests like gold. We're excited to celebrate National Donut Day the Tim Hortons way by adding a touch of gold to our signature Timbits, a bite-size Guest favorite that are perfect for sharing with friends and family.
If the 24k Gold Timbits sound like a donut experience that you cannot fathom missing out on, then you really better make sure that your first stop on June 1 is at a specially-selected Tim Hortons restaurant in Buffalo, Columbus, or Detroit, because these golden donut holes will only be available that day for five lucky winners. Oh, and there's no way to know which Tim Hortons locations are serving up the deal, so make sure you speak up and ask for the Golden Timbits on June 1 in case your location is the lucky one.
While you prepare for your shot at free donuts for a year, you can also make note of the other donut specials that you can claim on National Donut Day. There's no such thing as too many donuts, right? To keep the celebration going, you can also stop at Dunkin' Donuts on June 1 to get a free donut with the purchase of any beverage (yes, please!).
I'm sure there are other donut deals to be had on Friday, June 1, but the chance to win free Tim Hortons donuts for a year is so good that you'll probably want to go ahead and set all the calendar reminders for that ASAP.