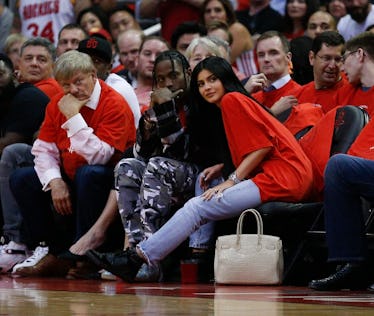 Here's How Much Kylie Jenner's Life Has Changed Since Dating Travis Scott
Bob Levey/Getty Images Sport/Getty Images
Kylie Jenner is the Kardashian sister that always keeps you guessing. Yes, all of the sisters are brilliant at toying with our emotions, dropping klues and playing games with the media, but Jenner has them all beat. And, in keeping with maintaining a private personal life, her relationship with Travis Scott also remains pretty well under wraps, meaning that for the last ten months or so, we've been kept out of Jenner's loop. And I'm the first to admit it: it sucks. We all want to Keep Up With Kylie, but we can't. Gone are the days when fans got to see selfies and tweets every hour on the hour (moment of silence, please). Kylie Jenner's life has changed since dating Travis Scott, and, while we can't be sure if it's because of Scott himself or other reasons beyond our knowledge, her new normal is so, so different from what we used to see.
Jenner and Scott reportedly started dating back in April of 2017 and were not very public about their relationship. Though the couple remained quiet about their romance, they did confirm that things were *pretty* serious in June of 2017, when they showed off matching butterfly tattoos on their ankles, most likely honoring Scott's song "Butterfly Effect" that's rumored to be about Jenner:
Looks like proof of ~true love~ if I've ever seen it.
But since Jenner and Scott have started dating, it seems as if Jenner has fallen off the face of the planet, and that's a drastic change coming from her. Let's take a look and see just how much Kylie Jenner has changed since dating Travis Scott.
Kylie Jenner rarely appears out in public anymore.
Maybe Travis Scott and Kylie Jenner don't go out because they are just homebodies, or maybe it's because Jenner is reportedly hiding the fact that she's pregnant with his baby. Ya know, either or. Since dating Scott, her public appearances have went to infrequent to downright rare, leading many people to speculate that she's got a bun in the oven that she isn't ready to reveal to the public just yet. Jenner did, however, attend the Kardashian Christmas party, but the only evidence is a Snapchat video that shows her from the chest up (and is wearing what seems to be a very baggy white sweater):
Her appearance came as a shock, especially because she wasn't included in the Kardashian Christmas card — yet another nod towards the conspiracy theorists who believe Jenner is pregnant.
Jenner has been pretty MIA in the public eye until Jan. 25, when TMZ released a video that showed Jenner with BFF Jordyn Woods and momager Kris Jenner. Many are convinced that they see a baby bump, while others remain skeptical. Regardless, this appearance is only one of a handful since Jenner and Scott have started dating.
Kylie Jenner's social media accounts have all but come to a halt.
The reported pregnancy comes into play yet again here, but since dating Travis Scott, Jenner's social media has went from all day err day to little dribs and drabs (and it's driving me bonkers). WE WANT MORE, KYLIE.
Back in early 2017 (pre-Scott), Kylie Jenner's Instagram uploaded several posts a day. Several, as in anywhere from one to four posts daily. And now? It's a damn ghost town. The girl who once posted stunning selfies and envious outfits has barely posted anything in the last few months, with her most recent post dating all the way back to Dec. 25.
Maybe Travis Scott is just teaching her that to truly live life, you need to get off your phone and experience the world beyond a screen.
But, considering his last Instagram post was from Jan. 16, I'm going to go with a "strongly disagree" on that statement above and say that once again, rumors of Jenner's pregnancy might come into play here.
Pregnancy reports have taken over Kylie Jenner's MO.
Before Travis Scott, Jenner was all about her multi-million dollar business, Kylie Cosmetics, and the world followed suit. And, while Jenner is still profiting like crazy from those lip kits, it's taken a back seat in terms of what Kylie is known for recently. Jenner is still a businesswoman through and through, but now the media is less focused on her makeup line and more focused on — you guessed it — those pesky pregnancy rumors.
While it might be hard to distinguish whether these changes are because of boyfriend Travis Scott, her reported pregnancy, or a hearty mixture of both, we know one thing for certain: Will the old Kylie please come back?
We miss you.
Travis can even come too, if you'd like.