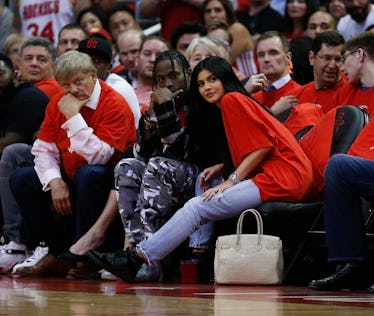 Kylie Jenner & Travis Scott Were Spotted Out Together Following Pregnancy Reports
Bob Levey/Getty Images Sport/Getty Images
Kylie Jenner and Travis Scott were seen out together for one of their first joint appearances since the pregnancy rumors started. No, this wasn't a red carpet or anything, the pair is apparently on a vacation in Houston and fans spotted them when they stopped to get some food. The photos of Kylie Jenner and Travis Scott prove they're keeping things pretty chill right now, but they don't show us any kind of baby bump whatsoever, so the mystery continues.
The pair was reportedly seen getting food at a place called MOD Pizza in Houston. According to Perez Hilton, they got some pizza and left soon after, but that wasn't before fans could snag some pics of possible parents-to-be. An eyewitness told Perez Hilton, they literally just got food and dipped. The eyewitness didn't even say anything about the possible bump. Rude. They said,
Kylie and Travis came in right after the lunch rush. There were only about eight people total in the restaurant. They came in at the perfect time because no one was in here. They both came in together and Kylie ordered a pepperoni pizza and then her and Travis walked back to the car with their guards. Their guards then came back in and paid for the pizza and picked it up.
One Twitter user says their friend made Jenner some food, and, according to the user, Jenner definitely looks pregnant.
But Jenner and Scott haven't confirmed their reported pregnancy, so we can't know for sure if Jenner actually looked "pregnant af" like the Twitter user said. There are a bunch of clues that Kylie Jenner is pregnant, but until they confirm it, we can't say for sure. The only Kardashian sister to confirm she has a baby on the way is Kim Kardashian, who confirmed in a trailer for the current season of Keeping Up With The Kardashians that she and Kanye West are expecting their third child, reportedly via surrogate. New reports claim their surrogate's due date is before Christmas, so it's totally possible that the first baby of the most recent reported Kardashian/Jenner baby boom will be here before 2017 is over. (Side note: I really would love it if 2017 would just quit and be over already. I'm quite done with its bullsh*t.)
Anyway, sources close to Jenner and Scott say she's trying to preserve her privacy as much as she can right now. She allegedly wants to keep the pregnancy low-profile, so she's having people come over to her house a lot to keep her company. And now, she's apparently going on vacations with the bae! A source told People,
She feels good, but her body is changing. She doesn't want to be photographed. At the moment, she wants more privacy. She has family and friends come to her house instead so she has company. She is very excited about the baby though. She talks about the baby nonstop. She is already shopping like crazy.
People have been trying to figure out for themselves if Jenner is pregnant ever since the news broke on Friday, Sept. 22.
Back when Jenner and Scott got matching butterfly tattoos, people didn't think much of it other than, "Dang, they've been dating for, like, one day. But sure, get matching tattoos." In light of the pregnancy rumors, however, people are thinking these tattoos mean a lot more than just a commemorative tattoo for Scott's song "Butterfly Effect," which is reportedly about Jenner.
On June 12, Scott tweeted something that fans now think was his reaction to Jenner telling him she was pregnant. His tweet said, "Legit happiest day of my life." Some people were responding to the tweet asking if he was happy because he had ended things with Jenner, but it might be the exact opposite. Given that Jenner's due date is reportedly the early months of 2018, it's likely that Jenner learned about her reported pregnancy in June and told Scott shortly after. That math checks out.
A source told People that while the alleged pregnancy was unexpected, Jenner and Scott are really happy about it. The source said,
It is an unexpected but completely amazing turn of events that she could not be more excited or thrilled about. Everyone is overjoyed for her. This is the happiest she's ever been.
Well, it looks like Jenner and Scott are still going strong.