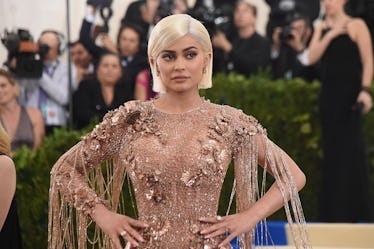 Kylie Jenner Finally Made An Appearance After Khloe's Pregnancy News & You Must See The Pics
Nicholas Hunt/Getty Images Entertainment/Getty Images
Breaking news from the Kardashian Christmas party: Despite the lack of photographic evidence of Kylie's attendance, a new Snapchat video appeared on Christmas morning that proves Kylie Jenner went to the Kardashian Christmas Party last night after all. This morning, Khloé uploaded a new video that upon closer inspection includes her half sister Kylie Jenner.
This is a huge deal, since Kylie has not made a public appearance in months, ever since reports came out that the 20-year-old model was pregnant with her first child. The Kardashian clan has not confirmed her pregnancy officially, or who the father might be, though some suggested at the time that Jenner might be carrying the baby of her half sister Kim Kardashian, who had previously announced that she and Kanye West are expecting their third child through a surrogate.
Excitement spread through the Kardashian faithful as soon as the video hit the internet, with some looking very carefully to see if Kylie was sporting a baby bump to rival sister Khloé's. If this is the leak ahead of the official announcement, it would make sense that the two pregnant half sisters would be the ones to share the Snapchat spotlight, after all.
So for those who have a little trouble understanding the video above, the person to the right hand side is Khloé. Fans knew she was in attendance at Kris Jenner's Christmas Eve Party last night because she documented the evening on Snapchat.
This morning, however, she posted a Snapchat with her sister, dressed in a fancy Christmas sweater. Kylie, on the other hand, is in a huge white tee shirt that is clearly covering up her figure so fans cannot at first glance make out if there's really a baby bump or not.
To transcribe in case the high-pitched voices are too hard to make out:
Kylie says,
Hi, Merry Christmas!
Then Khloé comments,
Merry Christmas, everybody! My Christmas bunny! People think you weren't there last night!
Kylie replies,
I was!
So there you go. Kylie was at the Kardashian Christmas Party last night, but most likely didn't show up in any photos to give away her baby bump.
Others pointed out the white tee shirt was not only a disguise to hide her baby bump, but also proof she must be pregnant, because she wasn't wearing the family tradition of "festive PJs" because they don't come in maternity sizes.
Good catch!
But my personal favorite was this Tweet, which is hella accurate:
Is this the only news we will get about Kylie today?
Fans around the world are waiting for the final Christmas Card photo from the Kardashian-Jenner clan, due sometime on Dec. 25. The first 24 images that have been released since the beginning of the month have all failed to include pictures of Kylie. Many assume that means that today is the big day and that for Christmas we will finally get a confirmation from the family that Kylie is having her first child. Half-sister Khloé, whose pregnancy rumors didn't come out until weeks after Kylie's, already made her official announcement via Instagram last week. Check out the photo below:
It seems unlikely that Kris Jenner would be so cruel as to disappoint fans who have been on the edge of their seats every day this month with the release of each new Christmas card. This Snapchat video just turned the excitement and speculation up to 11, especially now that we know she was in attendance and just magically was never photographed.
How much longer until the final Jenner Christmas Card comes and we know for sure if today's the day? Hopefully soon....