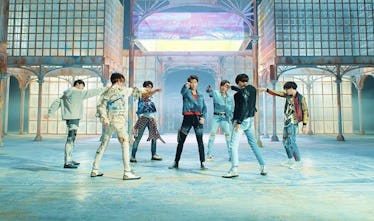 Here's Every BTS Video That's In The Bangtan Universe, So You Can Catch Up
YOUTUBE
One of the first things fans learn about BTS is they don't mess around when it comes to their music videos. Each of the group's visuals is stunning, and they never fail to leave the viewer thinking about its possible meaning behind it. As new fans start to piece together BTS' music videos, they begin to realize that many of them actually connect. The overarching storyline is known as the Bangtan Universe, and it exists not just in BTS' visuals, but in their webtoons and short stories as well. Since it can get pretty complicated, here's every BTS video that's in the Bangtan Universe.
To summarize, the BU involves a fictional storyline that has all the BTS members playing their own character. These characters have their own backstory, but they all connect in some way. If you see certain scenes or symbols repeating in BTS' music videos, that's because fans concluded the story involves time travel and alternate timelines.
It can be difficult trying to differentiate which videos are part of the BU, but according to fans, those that belong to this world will have the words "BU content certified by Big Hit Entertainment" at the bottom of the video's description. However, just because some videos don't have it, doesn't mean they're not connected. According to fans, here's every BTS video that's in the BU.