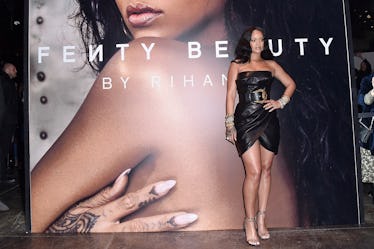 Fenty Beauty's New Flyliner Will Make Your Eyeliner Wings So Strong, You'll Fly Away
Jacopo Raule/Getty Images Entertainment/Getty Images
First, Rihanna gave us — all of us — foundation. Then, came the blinding highlighters, the alien couture-inspired palette, and of course, the only body makeup I'd willingly slather onto my skin: the limited edition Body Lava. Fenty Beauty has established itself not just under Rihanna's iconic celebrity, but in its own right as a damn good cosmetics company. Fenty's also a little unpredictable, which is why I shouldn't be shocked that the brand is releasing a second summer collection for 2018. It contains their second eyeshadow palette, a new lid primer, and more. But out of all the newness dropping, Fenty Beauty's new Flyliner from the Moroccan Spice Collection is number one on my list. In fact, I officially will not enjoy my summer until I can do so with a fierce winged liner look drawn by this very felt tip. It's what Rihanna would want.
Out of all RiRi's gorgeous features, I'm willing to claim that her eyes are her best assets. Powerful, seductive, and striking, she could probably win a staring contest against just about anyone, and she would definitely win an eyeliner contest, thanks to some of her most iconic liner looks. Feast your eyes on her eyes:
Behold, this thick yet dainty wing, paired with light, feathered lashes, which is my new night out go-to.
Gush over this exaggerated cat eye that has more beauty in its wing than most celebrities can get from a whole glam squad. (ThereIsaidit.)
If the above weren't more than enough to convince you that I (and everyone else in the whole world) need this liner, allow the packaging itself to do the talking. Drumroll, please!
Chic, sleek, and Rihanna-approved. Pink chrome? I'm sold, people.
According to the Fenty Beauty site, Flyliner has a water-resistant finish, is incredibly long-lasting, and is available in the shade "Cuz I'm Black," described as a true satin black. For application ease, the liner has been specialized to feature a unique, flexible tip and a triangular shape, said to make swiping it on a breeze. Fenty notes the liner has "the intensity of a liquid plus the glide of a gel," which sounds like the perfect Frankinstein-liner creation to me.
Rihanna and Fenty both took to social media to announce the new launches, which aren't available until July 6 on the Fenty Beauty site, Harvey Nicols, Sephora.com, and Sephora in-store. I'm not sure why she doesn't want me to have a fierce liner look for my Fourth of July festivities, but I'm trying to be patient and forgive her because the rest of the collection — especially the new Moroccan Spice eyeshadow palette — looks so freaking great.
The brand even reposted an Instagram Stories video of RiRi finishing off an eye look with the Flyliner, which is honestly too iconic for words.
In addition to the liner, the collection will include the Moroccan Spice Palette, the Pro Filter Eye Primer, and two new eyeshadow brushes in the brand's signature millennial pink shade. To hype up the release, all this and more will be available at the Fenty Beauty Moroccan Spice Market NYC Pop Up Shop, which starts June 27 and will remain open in three locations throughout NYC through Friday, June 29. The rest of the world, however, will have to wait for July 6 to recreate this look:
Until then, I'll be practicing my wing-sculpting skills so I can embrace Flyliner with full force as soon as it's available. And according to Twitter, I'm not the only one prepping my liner application abilities for the launch.
Just make sure your mom approves your new buy!