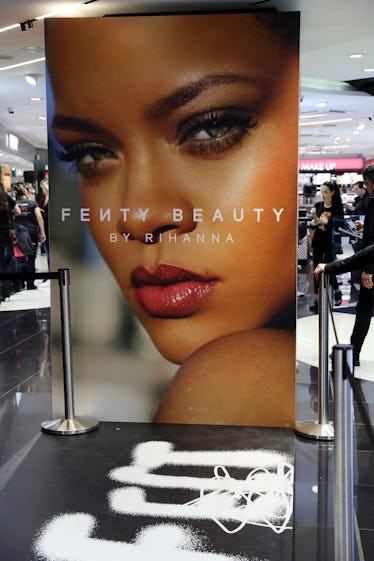 Fenty Beauty Pop-Up Shops Are Coming To NYC, So Try To Contain Yourself
Vittorio Zunino Celotto/Getty Images Entertainment/Getty Images
If you're in New York City from June 27 until June 29, and you're a huge fan of Rihanna's eponymous cosmetics line, then you're in luck, because Fenty Beauty pop-up shops are on the way. On Monday, June 25, the musician sent beauty lovers into overdrive when she announced some new additions were coming to Fenty Beauty. Among the latest products? The Moroccan Spice Eyeshadow Palette (which can be used to recreate her look from "Wild Thoughts"), along with Flyliner Longwear Liquid Eyeliner, Pro Filt'r Eye Primer and two new eye brushes. All these products will be available come July 6 online and in store at fentybeauty.com, Sephora, and Harvey Nichols. But those who are lucky enough to make it to the pop-up shops will be able to snag these products ASAP.
The first store will be located at The Pennsy, 2 Pennsylvania Plaza, in Midtown. The second will be in Brooklyn at the Pearl Street Triangle on Water Street, between Pearl Street and Anchorage Place. And the final shop will be downtown at Seaport District, 89 South Street. Each location will be open from 11 a.m. ET until 7 p.m. ET daily. So, no matter where you are in the city, there should be a spot that's fairly easy to get to. And, you (hopefully) should be able to make it there on your lunch break. Or if you have the luxury of sleeping in on weekdays, then you won't have to wake up super early to beat the crowd. Although, I'm sure there will likely be a pretty long line.
There's no word yet on whether or not Rihanna will make an appearance at any of the locations, but there's always a chance that the Bajan beauty will make at least one surprise stop.
But even if you aren't able to catch RiRi at the shops, you can always watch her on the big screen in her new film Ocean's 8, which is out now, alongside an all-star cast, including Sandra Bullock, Cate Blanchett, Anne Hathaway, and more. Here, she plays Nine Ball, a brilliant hacker who's the mastermind behind the team's plot to get their hands on a $150 million necklace.
The silver screen aside, Rihanna has shaken up the beauty industry with Fenty Beauty, dubbing it as a line that offers "beauty for all." So the enormous success of this venture is truly no surprise.
But in the age of social media, when so many young people are not only feeling the pressure from their peers, but also from platforms like Instagram, to look flawless at all times, major cosmetics lines have to be considerate when it comes to their messaging and imagery. Thankfully, the Grammy winner is well aware and shared her thoughts on this topic with InStyle back in November 2017.
"The biggest mistake you can make is to compare yourself with someone else," she said. "I hate the pressure that's being put on us by social media. Young girls don't know which way to go; they're still figuring themselves out. And what we're teaching them through social media is this idea that you have to be perfect. I just reject that at every cost."
She continued that people feel happiest and most successful "when they're who they're meant to be." "I can only try my best to encourage girls and women to respect their uniqueness and be 100 percent true to themselves," she says.
These series of pop-up shops will be the first for Fenty Beauty, but if it's anything like her surprise appearance to Sephora's Times Square location back in September 2017, then it's bound to be a wild few days in New York City.