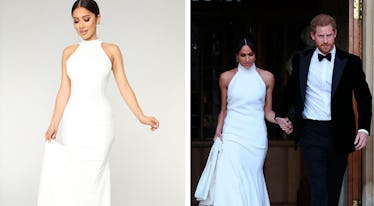 Fashion Nova Made A Copy Of Meghan Markle's Reception Dress & I'll Be Rocking It With A Messy Bun ASAP
If ever a company truly devoted itself to being on top of every and any style trend, Fashion Nova undoubtedly takes the cake. If ever someone was to win an award for the fastest rise to style icon stardom, I believe Meghan Markle would beat out all the other nominees, as she has managed to become both a duchess and a messy bun/cool-girl fashion icon in a matter of just a few months. With these facts in mind, I'm hardly surprised to come across Fashion Nova's replica of Meghan Markle's reception dress, since millions of eyes were watching when Markle said "I do," and millions more took to Twitter and other social platforms to rave about her wedding day lewk — her high-necked reception gown in particular. It's too late now to channel these Markle vibes for your Halloween costume, but Fashion Nova is making it possible for you to wear a similar style to your neck formal event instead. Markle's signature messy bun not included.
In case you were too focused on Markle's Givenchy ceremony gown to give her second ensemble of the day much thought, allow me to remind you of this stunning Stella McCartney number:
The dress, worn to the wedding reception, is a silk crepe with a high-necked silhouette that oozed glamour as Markle and Prince Harry hopped into their blue Jag. Goals:
Obviously, I'm not the only one who thought Markle's second gown was breathtaking — and Fashion Nova took note. The online retailer is notoriously good at hopping on trends and even exact outfit copies; for example, they launched a Birthday Behavior collection inspired by Kylie Jenner's 21st birthday outfits just hours after Jenner posted the looks herself.
The timing was impressive, but also sort of wild. Like, how?
It's been a minute since Prince Harry and Markle's royal wedding day back in May, but Fashion Nova has just now decided to grace us with The Royal Debut Dress ($45, fashionnova.com), an off-white replica of Markle's reception gown on a budget, priced just below $50.
The dress comes in eight sizes, from XS to 3X, all of which are currently sold out. You've done it again, Fashion Nova!
The gown features a back zipper and full lining, and is made of a stretchy combination of 96% polyester and 4% spandex. Also, unlike Markle's British gown, the Fashion Nova version is made in the USA:
Personally? I'm not normally a knock-off kind of gal, but I think the models look really gorgeous in this fit, and I'm choosing to see it as a nice, affordable special occasion piece with Markle vibes, not a full-on copycat move. I love that the brand included plus size options, and it appears buyers are satisfied, too — the dress currently has 35 reviews and a cumulative total of 4.9 stars out of five. Not bad!
"I was scared that I wasnt going to like it, i wanted to show off curves but still be elegant. Fit like a glove, and the little train made it even cuter," reads one five-star review. Believe it or not, a lot of the reviewers purchased the under-$50 dress to be their wedding gown (or, like Meghan, their reception gown) and were thrilled with the results. None explicitely mentioned pairing the dress with a Markle-inspired messy bun, but I'm willing to bet that many did.
"Very flattering. Stretchy thick fabric so it's not see thru. Beautiful little train on the back," says another reviewer. "Wore as my second dress at my wedding and everyone screamed as I walked back in the room! Hahaha."
Me, smiling and waving to my haters who can't understand how I'm serving royal wedding vibes for less than $50:
TBH, after reading the reviews, I'm debating picking this up for myself when it comes back in stock. No word yet on if Markle is a Fashion Nova fan, but I'm now on a personal mission to perfect my messy updo (and wrangle myself a red-headded prince) so I can properly complete the look when this dress is available again.