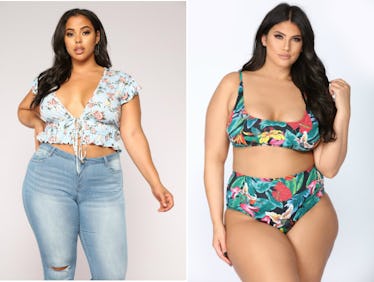 Fashion Nova Curve Is Bringing The Heat For Summer 2018 & You'll Want Every Piece
Fashion Nova
One brand has been blowing up as of late thanks to its myriad of celebrity supporters and ambassadors and slick social media strategy. If there ever was a very 2018 brand, Fashion Nova would be it. Fashion Nova Curve, too, is on total fire, offering up some of the best summer styles around at seriously low prices. If it's good enough for Cardi B, Kylie Jenner, Jordyn Woods, and Khloe Kardashian then it's definitely good enough for me. As described on the brand's website, "We at Fashion Nova believe the customer is the Star. The girls who rock our styles are adventurous, inspirational and badass. A Nova Star is always the best dressed girl in the room. Her confidence is what truly shines, but her Fashion Nova outfit adds that extra sparkle."
If sparkle is what you're looking for, the brand definitely has that in droves. But if you need a sexy dress for a night out dancing, a cute blouse for a brunch date, or a new pair of distressed denim jeans, they have all of that too. Below, I picked out all of the best summer 2018 pieces from Fashion Nova Curve that will have you covered for an array of occasions and always ensure you look every part the sartorial star you are.
Ugh, As If!
This skirt is giving me major Clueless vibes and I am all about it. Cher Horowitz is still one of my (and a million other people's) style icons to this day—yellow plaid will always be cool.
Cold Shoulders
Off-the-shoulder tops and dresses are huge for summer 2018 and this cream colored dress features the trend in top form. I love its subtly ruffled neckline and hemline and button-down front. I'd wear it with stacked wooden heels and a woven straw bag.
Baby Blue
Another off-the-shoulder style, this blouse is everything I love about a bohemian-inspired piece. It features balloon sleeves, a drapey silhouette, and cute drawstring ties. It's perfect to pair with a denim for a casual afternoon or with a black mini skirt and heels for a night out.
G.I. Jane
Cargo pants with bralettes were huge at Coachella this year so you know they're also going to be huge for summer style in general. This pair features big side pockets and elastic cuffs—they look equally great with Vans as with a pair of sky high stilettos.
Suit Up
A spaghetti strap bodysuit is a staple summer piece—it's ideal to wear under shorts and shirts since it will never ride up. This iteration features a cool twisted bust and bright striped design.
Pretty in Pink
Just plain cute! It would look awesome with white sneakers and a pair of retro white sunglasses.
Welcome to the Jungle
This bikini is all fun and games. I love sporty silhouettes for swimwear and seeing as this one features that plus a fun print, it's basically my dream suit.
Boho Dream
The maxi silhouette, the eyelet detailing, the delicate sleeves—it's all so good. Anyone who puts it on will immediately look like a desert goddess. Silver jewelry encouraged.
Flower Power
I love the silhouette of this cropped shirt, with it's double waist ties and deep V neckline. Paired with the ruffle detailing and cute floral motif, it's a summer must-have.
Snip Snip
Cutoffs are great, but bermuda-length cutoffs are better. They're not only trending but they're about 100 times comfier than their itty bitty predecessors. Wear them with crop tops for a sexy festival look or basically anything else for a regular day out.