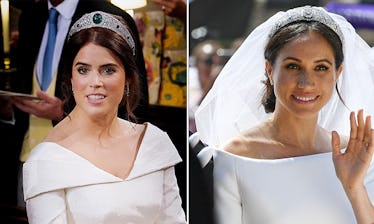 Eugenie's Wedding Hair Is Identical To Meghan Markle's, But No One Is Criticizing Her Flyaways
WPA Pool/Getty Images Entertainment/Getty Images/WPA Pool/Getty Images Entertainment/Getty Images
Princess Eugenie of York has always taken a pretty minimal apprach to her hairstyles. although she has showed up to some major royal functions in fascinators that are well, fascinating, her hair has always been left simple, shiny, and classic. In fact, the last time I caught a glimpse of her look was at the royal wedding and she wore a low bun (and even that was a new look for her). But now, it's her turn to play bride and I've been curious how Eugenie's wedding hair vs. Meghan Markle's wedding hair stacks up.
Meghan Markle received some criticism for her wedding hair. On the day that she officially became the Duchess of Sussex, the bride wore a low, messy updo with loose, face-framing tendrils in the front and sparked a worldwide debate on the expectations of princess hair. After the famous ceremony, her hairstylist Serge Normant commented on the look saying, "her style is so easy and not contrived. It wasn't about reinvention. She has a beautiful head of hair and is gorgeous, so it was just easy." He also added "I really wanted it to be loose. There were a lot of little bits [around her face]. I wanted her to be able to tuck it behind her ears if she wanted to do, because that is what she normally does."
While you have to commend a girl for staying true to herself, the undone look certainly resulted in a flurry of funny memes.
Speaking of the wedding seen round the world, when Princess Eugenie attended the nuptials of Markle and Prince Harry, she showed up in a darling light blue pillbox hat with a messy low bun and pieces of hair framing her face, just like the bride.
But let's get to her big bridal moment. On Oct. 12, Princess Eugenie wore an almost-identical hairstyle that the Duchess of Sussex wore on her wedding day. Both brides went with a center part and loose strands of hair framing their faces. Although Markle opted for a dramatic veil, she and Eugenie both borrowed a tiara from the queen's personal collection to accent their bridal 'do. However, Princess Eugenie introduced some color into her look — her tiara was embellished with emerald stones — both shared a similar tall-in-the-center-slim-on-the-sides style. As for the buns, both brides chose a low chignon that sat low on the nape of the neck with a bit of volume at the crown.
WPA Pool/Getty Images Entertainment/Getty Images
WPA Pool/Getty Images Entertainment/Getty Images
At this point in the game, Markle's loose tendrils had already become the subject of social media memes, but I'm yet to see any memes criticizing Eugenie's flyaways. Maybe the Duchess of Sussex just made easy hair acceptable for royals on their wedding day.
Although Eugenie and Markle shared the same wedding venue, similar tiaras, and almost-identical hairstyles, Princess Eugenie of York has a style all her own, which we can see in her gown and wedding decorations. I admittedly keep a closer eye on Meghan Markle's beauty and fashion choices, but Eugenie has proved she is one to watch as well.