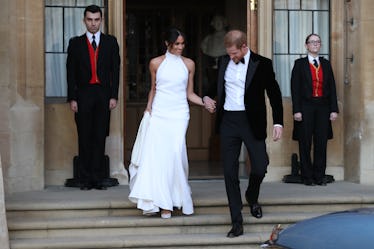 Meghan Markle Is Breaking Tradition Again At Her Evening Wedding Reception
WPA Pool/Getty Images Entertainment/Getty Images
Meghan Markle reportedly has another break with royal tradition planned for her final reception on Saturday, May 19. Contrary to royal protocol, Meghan Markle will speak at her evening wedding reception, and I can't wait to hear what the new Duchess of Sussex has to say.
Hours after Prince Harry won over guests with a charmingly "off-the-cuff" wedding speech where he referred to Markle as "my wife," Kensington Palace revealed that the former actress will be delivering a speech of her own at her evening wedding reception, according to People. The publication reports Markle will be sharing a few words during a Frogmore House reception hosted by Prince Charles, and I'm already speculating on what she's going to say.
Unlike the luncheon reception where all 600 wedding guests were invited to attend, only 200 close friends and family will be present to hear Markle's first address as a member of the British royal family — so it's a perfect time for her to connect with Britain's inner circle as well as the British public.
According to Harper's Bazaar, the former Suits actress has been notoriously outspoken in the past as an advocate for gender equality, women's rights, and the United Nations, and something tells me that this first speech could set the tone for her future reign as Duchess of Sussex while nipping the opinions of more traditional nay sayers in the bud. Royal title or not, I don't see her giving that all up. After all, Markle did insist on omitting the word "obey" from her vows, according to InStyle.
Then again, the speech could be a light-hearted opportunity to poke fun at the groom's expense. Back in January, The Times first reported the news that "the bride, which is expected to be gifted the title of Duchess on her wedding day, is planning an 'affectionate' tribute to her new husband and will offer thanks to the Queen, her family and friends." So does this mean that they'll be doing a slideshow of all the embarrassing photos of Prince Harry in his teenage years? Or that she'll be sharing hilarious stories from their relationship? Oh, to be a fly on that wall.
While I have to anxiously wait with the rest of the world to hear what Markle said during her reception, there's no denying that she arrived in style. According to People, the newlyweds memorably slipped into a classic blue Jaguar convertible to head to the evening party. Markle swapping out her Givenchy gown for a fitted halter-neck white gown from Stella McCartney paired with her "something blue" heels from Aquazurra, and an aquamarine ring, which Harpers Bazaar reports was originally owned by Princess Diana.
It turns out that Markle isn't the only one to break with tradition for her wedding, as Prince Harry reportedly also went the unconventional route when speaking about his new wife during the luncheon.
According to a source from People who is attending the wedding festivities, "[The speech] was very off-the-cuff, which was lovely. He promised that all the Americans wouldn't steal the swords and said, 'Please, when you leave, be quiet as you don't want to wake the neighbors,' which was quite fun. It was more than you would ever imagine it to be. It did feel like we were really part of their very special occasion. It just felt about the two of them, which was great."
Let's be real, we may never know exactly what goes down during Markle's speech without one of those covetable invites, but I'm loving that the modern princess insisted on breaking royal tradition to do one on her very first day as a Duchess.