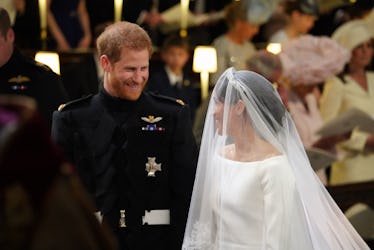 Prince Harry Went "Off The Cuff" During His Speech At The Reception & I'm Swooning
WPA Pool/Getty Images Entertainment/Getty Images
Prince Harry and Meghan Markle tied the knot earlier today on Saturday, May 19, and the wedding was anything but ordinary. Aside from the fact that Markle wasn't born into a royal family (and that she's divorced), Prince Harry's wedding reception speech was reportedly unplanned and unconventional — and it definitely got the crowd going.
One of the guests who attended the wedding ceremony, as well as the following luncheon at Windsor Castle's St. George's Hall, reportedly told People that Prince Harry made a somewhat untraditional speech. And obviously, the crowd loved it. Like the sweet, standup guy he is, Harry reportedly stood up and thanked everyone who helped coordinate his wedding. And while his speech was incredibly heartfelt and eloquent, the best part was undoubtedly when he said "my wife and I," referring to the lovely Meghan Markle. AWWW.
As you could imagine, the crowd was thrilled to hear Prince Harry officially refer to Markle as "his wife," because in all honesty, it's the cutest thing ever. Like, can you believe that these two are finally married, at long last? Apparently, the crowd applauded immediately, and I can't blame them. Even though I streamed the entire ceremony from start-to-finish (obviously), none of it really seemed official until the moment I heard he called her his wife. I don't know why, but that's kind of how I felt about it.
The royal wedding attendee went on to tell People that Harry's speech was very lighthearted, as expected — but at the same time, it was quite sincere. They said Harry went above-and-beyond, and made all of the guests feel like they were very involved with making the wedding special.
The royal wedding guest told People,
It was very off-the-cuff, which was lovely. He promised that all the Americans wouldn't steal the swords and said, 'Please, when you leave, be quiet as you don't want to wake the neighbors,' which was quite fun. It was more than you would ever imagine it to be. It did feel like we were really part of their very special occasion. It just felt about the two of them, which was great.
Seriously, how cute is that? Not only was Prince Harry eager to call Markle "his wife," but he also wanted all of his guests to feel welcomed, and to feel like they contributed to his special day. Harry, you are the handsome, gratuitous prince that most bachelors and bachelorettes could definitely use in their lives. He might honestly be the OG prince charming.
This isn't the only time viewers have seen the Prince's soft side for his new wife. If you were watching the royal wedding ceremony, you probably saw how adorable Prince Harry and Meghan looked at the altar. From the beginning of the ceremony, the two were holding hands, even until they said their "I dos." The fact that they held hands while tying the knot was beyond heartwarming, because they totally didn't have to. But it's clear that their romance is so real. Seriously, it's giving me chills.
This is undoubtedly the least traditional royal wedding I've yet to see. But, it's definitely one of the best and the most beautiful. Prince Harry's unplanned speech at the luncheon reception was incredibly kind, as he thanked his friends and family. You can tell that his love for Markle is so real — especially when he referred to her as "his wife." I'm honestly kind of jealous that I'm not there to witness every second of the magic, but don't mind me. I'll just be sitting her in front of my TV... until, like, the end of time.