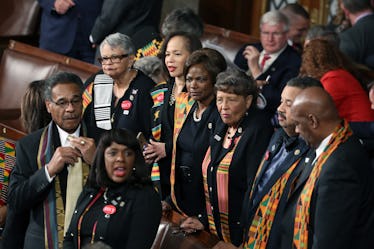 This Is Who Wore Black To The State Of The Union To Support Survivors Of Sexual Harassment
Mark Wilson/Getty Images News/Getty Images
As was expected, women from the Democratic Women's Working Group (DWWG), as well as multiple men, showed up wearing all black to Donald Trump's first State of the Union (SOTU) on Jan. 30. The idea to wear black was initially proposed by Representatives Jackie Speier and Lois Frankel at the beginning of January, as a way of showing solidarity with survivors of sexual harassment and violence, and to make a statement about its presence in politics. Along with other women from the DWWG, they invited other members of Congress to join them. Here's everyone who work black to the State of the Union.
Female leaders in politics have been following the steps of women in Hollywood as they paved the way for the #MeToo movement and the Time's Up initiative. On Jan. 1, 2018, more than 300 actresses signed and announced the Time's Up initiative and legal defense fund to support women in every industry as they combat and speak out against workplace sexual harassment. On Jan. 7, nearly every attendee — men and women — at the Golden Globe Awards wore black in solidarity with #TimesUp, signifying the start of a new chapter for Hollywood. For the women in the DWWG, time's up for the Capitol as well.
Photos showed so, so many Democratic women and men choosing to wear all black.
Photos showed Reps. Nancy Pelosi, Jackie Speier, Susan Davis, Gwen Moore, Bonnie Watson Coleman, Keith Ellison, Carolyn Maloney, and more all decked out, not just in black, but also sporting "Time's Up" pins and "Recy" buttons as a tribute.
And some shared images of their outfits on Twitter.
Reps. Ted Lieu, Suzan DelBene, Jamie Raskin, Gregory Meeks, and more all tweeted out that they were wearing black.
On Jan. 10, Speier sent out a tweet urging fellow members of Congress to join the women. It read, "My colleagues and I in the @HouseDemWomen are calling on our fellow MoCs- women & men, Democrats & Republicans to wear black to this year's #SOTU in solidarity w/survivors of sexual harassment/violence in Hollywood, politics, the military, academia, etc. #TIMESUP #MeToo"
In an interview with Elle, Frankel said that they would wear black in support of the movement, as well as a statement for equal pay and "more comprehensive policies around sexual harassment prevention and deterrence in not just office, but factories, restaurants, and hotels." In addition, Frankel did not just use her attire, but her State of the Union plus-one to make a statement. Frankel brought Laura Germino, who helped established the Fair Food program in Florida. The program is nationally recognized for helping eliminate sexual harassment for farm workers.
Frankel wasn't the only to bring special plus-one. Rep. Annie Kuster brought Chessy Prout, a survivor of sexual assault as her plus-one to the SOTU. "I've been inspired by the courage of Chessy Prout and other survivors of sexual violence, who are bravely using their experiences to let others know they are not alone," Kuster said in a statement.
In a January interview with NBC News, Frankel said, "Some members will be bringing survivors of sexual assault and advocates." At the time, there was speculation that some of those survivors would be women who have accused Trump of sexual misconduct, according to Elle.
A few attendees of the Golden Globes also brought many plus-ones that were activists for women and sexual harassment. Actress Michelle Williams brought Tarana Burke, the senior director of Girls for Gender Equity and initiator of "Me Too"; Meryl Streep brought Ai-jen Poo, the director of National Domestic Workers Alliance; and Emma Stone brought Billie Jean King, the tennis legend and founder of Women's Tennis Association.
Attendees of the 60th Annual Grammy Awards also had their only version of solidarity and symbolism for #TimesUp and sexual harassment survivors. Many performers and music legends wore a white rose to the event as a symbol. As reported by E! Online, a group called the Voices in Entertainment wrote a letter to their "brothers and sisters in music," inviting them to "choose the white rose because historically it stands for hope, peace, sympathy and resistance. Please join us in support of equal representation in the workplace, for leadership that reflects the diversity of our society, workplaces free of sexual harassment and a heightened awareness of accountability that our sisters started on January 1st and continued through the Golden Globes and onward."
The entertainment industry has historically been a place of expression, liberation, and forward-thinking, but politics, not so much. Everyone at the SOTU may not have participated in the all-black attire like the Golden Globes, but some did, and that's a start. It will take perseverance to completely rid the politics of sexual harassment, but any progress is a good place to start.