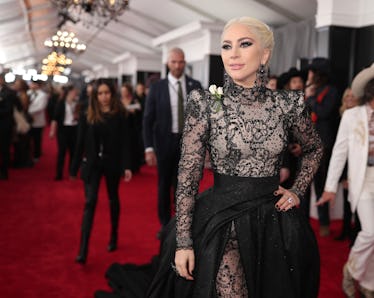 Here's Why Celebrities Are Wearing White Roses At The Grammys This Year
Christopher Polk/Getty Images Entertainment/Getty Images
A symbolic sartorial statement is about to overtake another red carpet, but this time, it won't be sported by film industry stars. And this time, the sartorial choice will be of the floral variety. The Grammys white rose meaning proves that the music industry also stands in solidarity with the Time's Up movement, which was behind the all-black dress code that was almost exclusively adhered to by attendees. (Only three people to walk the red carpet at the event chose to wear a color other than black, which is pretty incredible seeing as it's an occasion where celebs usually go all-out with vibrant looks.)
I'm positive you're aware of what the Time's Up movement is by now (unless you've been pulling a Patrick Star and living under a rock which, in light of the fact that the news cycle is regularly terrifying, I understand), but here's a quick refresher nonetheless. Founded on Jan. 1, 2018 by Hollywood insiders, the movement, which was launched in response to the Weinstein accusations and #MeToo movement (which was first launched by Tarana Burke), "addresses the systemic inequality and injustice in the workplace that have kept underrepresented groups from reaching their full potential. We partner with leading advocates for equality and safety to improve laws, employment agreements, and corporate policies; help change the face of corporate boardrooms and the C-suite; and enable more women and men to access our legal system to hold wrongdoers accountable," as described by their website. The Time's Up Legal Defense Fund is also part of the movement, and "provides subsidized legal support to those who have experienced sexual harassment, assault, or abuse in the workplace."
As I mentioned, Golden Globes attendees wore all-black in solidarity with Time's Up and now, members of the music industry are getting their shot to very publicly do so too. Attendees of the 60th Annual Grammy Awards are being encouraged to wear a white rose to the event as a means of spreading the message that sexual harassment and the silencing of survivors will be tolerated no more. As reported by E! Online, a group called the Voices in Entertainment penned a letter to their 'brothers and sisters in music,' writing,
"As we are inspired by the #timesup campaign, we are encouraging the artists that we work with and our colleagues attending the 60th Annual Grammy Awards in New York City to wear a white rose to the ceremony on Sunday, January 28th. We choose the white rose because historically it stands for hope, peace, sympathy and resistance. Please join us in support of equal representation in the workplace, for leadership that reflects the diversity of our society, workplaces free of sexual harassment and a heightened awareness of accountability that our sisters started on January 1st and continued through the Golden Globes and onward."
It is incredibly important that the movement continues to publicly gain momentum and support, especially among industries that suffer from gross gender imbalance. Just today, Billboard covered a report by the Annenberg Inclusion Initiative that revealed that in 2017, 83.2 percent of musical artists were men and only 16.8 percent were women, and that 2017 marked a six-year low for female artists in popular content. What's more, of 2,767 songwriters credited, 87.7 percent were male and 12.3 percent were female, and out of the study's 651 producers, 98 percent were male and only 2 percent female. This proves that there's not only a major lack of female representation among artists, but across all fields within the music industry as a whole. Sadly, it's easy to see how this imbalance could lead to a culture of silenced sexism and sexual assault. Just like the film industry, the music industry has been riddled with sexual assault allegations as of late, against note-worthy names across the industry.
At the 2018 Grammys, Lady Gaga is amongst the many celebrities wearing a white rose:
This all goes to show just how powerful the act of wearing a small white rose will be for artists, producers, songwriters, and the like come Sunday, when the Grammys will take place. Grammy nominated artist Rapsody, who is the sole female to be vying for a win in both the Best Rap Album and Best Rap Song categories, is confirmed to wear the rose in support of the movement.
If you want to partake in the movement, I'd recommend calling up your florist now. I have a feeling there will be a shortage of a certain white bloom come this weekend.