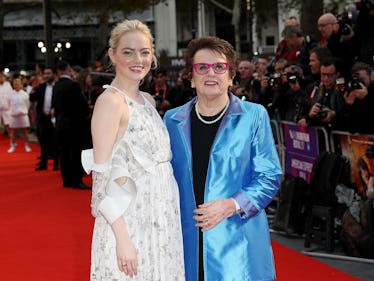 Emma Stone Brought The Activist She Plays In 'Battle Of The Sexes' To The Golden Globes
Tim P. Whitby/Getty Images Entertainment/Getty Images
The 75th Annual Golden Globes is shaping up to be a total girl-powered event, and we're here for it. The past few months have certainly highlighted the serious gender power imbalance plaguing the Hollywood industry, leading to a number of female attendees planning on sporting all-black ensembles in solidarity. Plus, in order to crank up the volume, eight high-profile actresses have decided to bring notable female activists as their dates to this year's award show to highlight women's rights. Emma Stone is among those women, whose date is tennis player and activist Billie Jean King, who she depicted in Battle of the Sexes.
Alongside fellow activists Tarana Burke, Marai Larasi, Rosa Clemente, Ai-jen Poo, Mónica Ramírez, Calina Lawrence, and Saru Jayaraman, the eight women released a statement detailing their mission in attending this year's Golden Globe Awards:
As longtime organizers, activists and advocates for racial and gender justice, it gives us enormous pride to stand with the members of the TIMES UP campaign who have stood up and spoken out in this groundbreaking historical moment. We have each dedicated our lives to doing work that supports the least visible, most marginalized women in our diverse contexts. We do this work as participants in movements that seek to affirm the dignity and humanity of every person. Too much of the recent press attention has been focused on perpetrators and does not adequately address the systematic nature of violence including the importance of race, ethnicity and economic status in sexual violence and other forms of violence against women. Our goal in attending the Golden Globes is to shift the focus back to survivors and on systemic, lasting solutions. Each of us will be highlighting legislative, community-level and interpersonal solutions that contribute to ending violence against women in all our communities. It is our hope that in doing so, we will also help to broaden conversations about the connection to power, privilege and other systemic inequalities.
Read their full statement here.
Born on Nov. 22, 1943, in Long Beach, California, King is among a family of athletes where she channeled her family genes into playing competitive tennis. Jean turned pro in 1959 and later went on to win 39 Grand Slam titles, three of which were claimed in the same year.
Ironically, it was the sport itself that awakened Jean's activist side. At the age of 12, when attending a tennis tournament, King was barred from taking part in a group photo due to wearing shorts instead of the appointed girl's uniform. However, this was just the first taste of inequality King would experience in the sport.
After winning the U.S Open in 1972, King soon found out she earned $15,000 less than the men's champion Ilie Năstase and spent her time off the court campaigning for equal prize money for both genders. In order to make her voice as heard as possible, she became President of the Women's Tennis Association in 1973, and helped establish the U.S Open as the first major tennis tournament to offer equal prize money for both sexes.
Despite all the gender equality work she had done, King was later outed as a lesbian and lost all major endorsement deals, resulting in her drive to fight inequality to become even stronger. Past tennis, King has been awarded a number of awards including The Presidential Medal of Freedom by President Barack Obama in 2009 on behalf of her advocacy for women's rights and the LGBTQ community.
Now, having slayed both on the court and in the courtroom, King is taking the Golden Globes red carpet by storm in order to shed light on the inequality plaguing arguably the world's most influential industry: Hollywood. You go, girl.