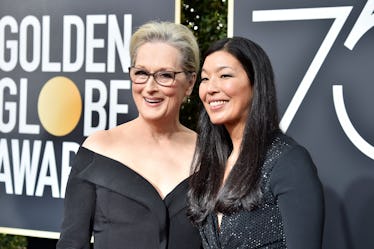 Meryl Streep Brought One Of The "World's Greatest Leaders" To The Golden Globes
Frazer Harrison/Getty Images Entertainment/Getty Images
Who run the world? Meryl Streep. And also, girls. Many women walking the red carpet for the 2018 Golden Globes are choosing some pretty incredible dates — and no, we're not talking about their gorgeous significant others. For the 75th Annual Golden Globes, women are bringing activists as their guests, as well as wearing black in solidarity for the #whywewearblack movement, and I AM SO HERE FOR IT. The queen, aka Meryl Streep, brought an empowering woman to stand by her side for the night: Ai-jen Poo. So, who is Ai-jen Poo?
Other than clearly being Meryl's bestie, she plays an even more significant role in her day-to-day life. According to Variety, Poo is "the director of the National Domestic Workers Alliance and co-director of the Caring Across Generations Campaign" and is listed as "one of Fortune's 50 World's Greatest Leaders." She's also a 2014 MacArthur fellow. And um, I'm sorry, but how much more bad*ss can you get?
The pair walked the red carpet wearing black to support the Time's Up initiative, and they are definitely not alone. In case you missed it, celebrities are walking the red carpet in black to stand in solidarity in the fight against sexual harassment and inequality, particularly in Hollywood.
And the fact that many women are choosing to bring activists with them as their guests in a way to keep the discussion going is just the most epic thing I think anyone has seen on the red carpet in a long, long time. Actresses such as Laura Dern, who brought Mónica Ramírez, an advocate for violence against women, and Emma Watson, who brought Marai Larasi, whose work supports ending violence against minority and refugee women, are truly empowering and lighting up this awards night.
In a statement from all of the activists themselves, the message is strikingly clear: The Golden Globes this year is about so much more than just awards. The statement read,
Our goal in attending the Golden Globes is to shift the focus back to survivors and on systemic, lasting solutions ... Each of us will be highlighting legislative, community-level and interpersonal solutions that contribute to ending violence against women in all our communities. It is our hope that in doing so, we will also help to broaden conversations about the connection to power, privilege and other systemic inequalities.
Women at the Golden Globes, you are doing the damn thing, and we're loving it.
Streep told E! News that she's thrilled to be with Poo as her guest at the Golden Globes, and said she feels "sort of emboldened" to stand united in this incredible movement. She said,
She and I are so happy to be here in this particular moment ... I think that people are aware now of a power imbalance and it's something that leads to abuse. It's led to abuse in our own industry, and it's led to abuse across domestic workers' field of work. It's in the military, it's in Congress, it's everywhere and we want to fix that. We feel sort of emboldened in this particular moment to stand together in a thick black line dividing then from now.
So, so perfectly said.
Here's Meryl Streep with Ai-jen Poo, looking like a pair of damn superheroes:
They seriously look amazing.
Considering the fact that Poo is crushing the red carpet while quite literally sending a global message about domestic worker's rights shows she is peak bad*ss. She is quite literally at the tippy-top level of bad*ss.
And she's got Meryl in her corner, so, you know:
You go, girl. Tune in tonight to watch the Golden Globes and cheer these ladies on.