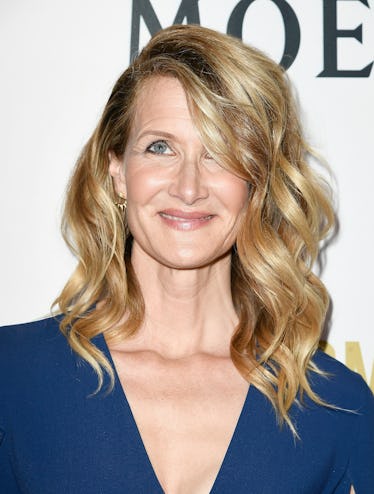 Laura Dern's Golden Globes Date Is An Advocate For Immigrant Women & Fans Love It
Frazer Harrison/Getty Images Entertainment/Getty Images
The Golden Globes are here, and many women in attendance are already making a major statement. While we're already well aware of the #whywewearblack campaign that's going on, many women in Hollywood are deciding to take things one step further: by having activists as their guests to the Golden Globes. Hell. Freaking. Yes. And there's one famous woman in particular who is bringing someone incredibly important: Big Little Lies actress Laura Dern, whose date is Monica Ramirez. Many of you might be thinking, "So, who is Monica Ramirez?"
So glad you asked.
According to Variety, Ramirez is "the co-founder of Alianza Nacional de Campesinas" who has "served farmworker, Latina and immigrant women as an attorney, organizer and advocate and is dedicated to ending violence against women, particularly farmworkers." So basically what they're saying is that she's part advocate for violence against women, part superhero. Sounds like a badass lady to me, and might I say, the perfect date to this awards show.
Dern, who's nominated for Best Performance by an Actress in a Supporting Role in a Series, Limited Series, or Motion Picture Made for Television for her portrayal of Monterey mom Renata Klein in Big Little Lies, has been vocal about the issues of race and gender inequality and the pitfalls that come with these issues as a society. In an interview with WWD, she spoke about how she wants to ensure her children grow up in a world where there is "zero tolerance." She said,
I focus on what I've decided is this country and the country that I describe to my children. And there are very few things that seem clear, but there is zero tolerance for a few things, because we're Americans, and we're clear about a few things: Nazis, racists, people who denounce people based on their cultural or religious or sexual preference — like that doesn't fly in this country ... Our grandparents and great-grandparents have worked too hard to get us here. So I am continuing to tell my children the story that is what this country is built upon, and there have been some mistakes where there are a rare few who don't understand. And we don't have to have compassion for their ignorance, but we can acknowledge it, and we've just got to keep using our voice.
She goes on to talk about how her career has almost come full circle in regards to the feminist movement that's been happening. She said,
We did it on Jurassic Park — there was a rather feminist line in response to something Jeff Goldblum says about 'man creates dinosaurs, and dinosaurs eat man.' Something like that ... And then I look back and say the line, 'Yeah — and woman inherits the earth' and that was such a big deal. It was like here it is, we're in this formulaic, big movie and it's this fabulous, fun, feminist moment. Then there are 12-year-old girls watching the movie and they hear that, and it's one line. For years it was 'Oh, well that's more for boys, because it's a dinosaur movie.' and that's what they used to say about Star Wars, and now because there are female icons in it, all the girls want to see it as much as boys. So yeah, it's really exciting to consider with every story that you tell. Every film I get to be part of, [I consider] how we can make it truly relatable, to all of us.
Could Laura Dern get any more awesome?
Only if she brought an activist as her date to the Golden Gl– oh, wait.
Laura Dern, you are LIFE.
Right on, ladies.