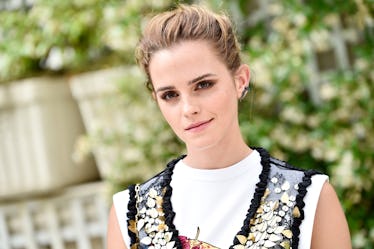 Emma Watson's Epic Golden Globes Date Fights To End Violence Against Women
Pascal Le Segretain/Getty Images Entertainment/Getty Images
All eyes are on the women tonight as they walk the red carpet leading into the Beverly Hilton to kick off the 2018 awards season. In the wake of the #MeToo and #TimesUp movements, many women chose to express their support for women's rights by bringing along some pretty important activist guests as their Golden Globes plus ones, including Meryl Streep, Michelle Williams, Laura Dern, Amy Poehler, Susan Sarandon, Emma Stone, and Emma Watson. Amen, ladies! But if you're anything like me, you're probably wondering just who is Marai Larasi, the woman who accompanied Emma Watson to the Golden Globes.
Marai has dedicated her life to ending violence against black, minority ethnic, and refugee women and girls as the executive director of the UK-based black feminist organization, Imkaan. She is also co-chair of the End Violence Against Women Coalition.
"When Michelle Williams spearheaded the idea of actresses bringing activists onto the red carpet, my first thought was it was be so great to do with Marai," Watson — who will be presenting tonight with Robert Pattinson — explained on the E! Red Carpet. "We've been working together this last year. She's absolutely incredible. She's the executive director of Imkaan, which is a black feminist organization that fights against violence in women and girls. And I'm very happy to have her here tonight just to amplify, amplify, amplify."
So. Are. We!
And not surprisingly, both women made a statement by joining the #whywewearblack movement, something Watson said makes her feel really emotional, since the issue doesn't just affect Hollywood — it affects women everywhere.
And Marai couldn't agree more.
"There's something about women in Hollywood speaking out," she explained to Ryan Seacrest. "There is a wall of silence around violence against women and girls, and every time somebody speaks out, it just creates a bit of a crack in that wall. Women in Hollywood have an opportunity to amplify the issues and shine a light on things, and actually that's incredibly important. And so it's a special moment in time. It's not the beginning of the struggle or the end of the struggle. It's a critical moment."
She's so right. And while Marai may not be up for any awards tonight, she's already a total rockstar who has been recognized by the World Pride Power List of 2013 as one of the most influential LGBT people in the world of politics, arts, and entertainment.
"I have been working on ending violence against women for 23 years," she previously wrote on the UN Women's website. "BME [Black and minority ethnic] women have always been central to my practice. Even before I had the language to describe 'intersectionality', I somehow understood that the journeys of BME women and girls were being shaped by exclusion and marginalization in different ways to our counterparts."
Other actresses who brought activists tonight include: Emma Stone, who was accompanied by Billie Jean King, the pro tennis player and activist who Stone portrays in "Battle of the Sexes"; Susan Sarandon, who brought Rosa Clemente, a political commentator; Meryl Streep, who came with Ai-jen Poo, the director of the National Domestic Workers Alliance and co-director of the Caring Across Generations Campaign; Michelle Williams, whose date is Tarana Burke, the founder of the #metoo movement and senior director at Girls for Gender Equity; Laura Dern, who brought Mónica Ramírez, the co-founder of Alianza Nacional de Campesinas; and Shailene Woodley, who was accompanied by Calina Lawrence, a musician and vocalist who traveled the country to advocate for Native Treaty Rights.
Way to go, ladies! And good luck to everyone at the Golden Globes tonight.