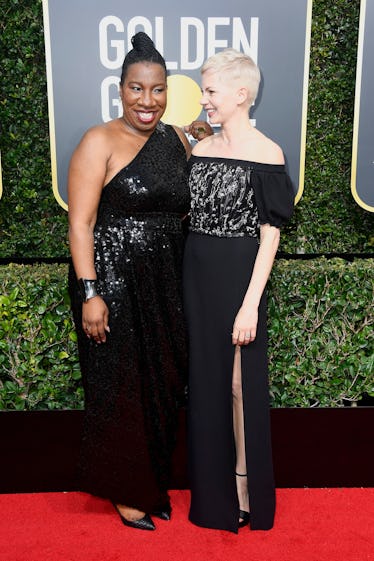 Tarana Burke Made A Huge Statement About The Me Too Movement At The Golden Globes
Frazer Harrison/Getty Images Entertainment/Getty Images
The hashtag #MeToo has been used millions of times on Facebook, Twitter, and Instagram since October, when actress Alyssa Milano first tweeted out a post asking her followers who have been sexually harassed or assaulted to use it. In just 24 hours, the hashtag exploded, and its original creator, Tarana Burke, just arrived at the 2018 Golden Globes.
Burke hit the red carpet with her date Michelle Williams, who is nominated for Best Actress in a Drama, and who is one of the eight Hollywood actresses who opted to bring activists along as their guests in order to take a stand against sexual harassment and gender inequality.
"You know why we're here?" Williams told Ryan Seacrest on the E! Red Carpet. "We're here because of Tarana. You may think we're here because I was nominated for something, but that's really not the case. We're here because Tarana started a movement and she planted a seed years ago and it's grown and caught fire. She started the #MeToo movement."
So incredible! I am loving the fact that Burke — the senior director of the nonprofit Girls for Gender Equity — is at the Golden Globes tonight. Her appearance at the awards ceremony not only gives her a major platform for the cause, but it also provides her with the opportunity to witness first-hand this amazing movement she's responsible for getting off the ground.
With Williams by her side, Burke explained to Ryan Seacrest that being there tonight is "deeply humbling." She said,
This is something that I started out of necessity, as something that I thought my community needed. It's grown over the years, but I could never have envisioned it growing like this. This moment is so powerful because we're seeing a collision of these two worlds — or a collaboration between these two worlds that people don't usually put together, and would most likely have us pitted against each other. So it's really powerful to be on the red carpet tonight and for people like Michelle to be selfless enough to give up their time so we can talk about our causes.
And speaking of Michelle being selfless, I love the way — like one Twitter user pointed out — almost every time Ryan Seacrest tried to turn the focus back to her, the actress found a way a to graciously reverse the narrative and shine the light on Tarana in order to elevate her mission.
Looks like your #Time'sUp, Ryan!
Seriously, I am really impressed with the way Williams was able to brush aside the host's frivolous congratulatory statement about her Globes nom, and instead use the opportunity to school him in the importance of Burke's movement, and the way it will impact how she raises her 12-year-old daughter Matilda (with the late Heath Ledger).
"I thought I would have to raise my daughter to learn how to protect herself in a dangerous world," she explained, fighting back tears. "And I think because of the work Tarana has done and the work I am learning how to do, we actually have the opportunity to hand our children a different world. I am moved beyond measure to be standing next to this woman, I have tears in my eyes and a smile on my face."
So do I. What an amazing journey this has been for Tarana, who began her mission 10 years ago, when she founded the Me Too movement in order to bring together women (and men) who've been victimized and silenced by sexual violence.
Thanks for being such an incredible warrior, Tarana! You may not be up for a Golden Globe tonight, but if anyone deserves to leave with all the awards, I think we all know it's you!