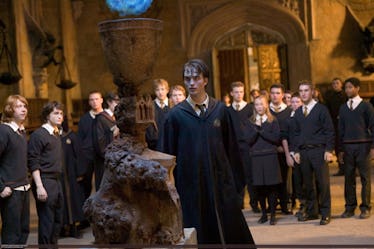 There Was An Unexpected 'Harry Potter' Reunion At The Golden Globes & Fans Loved It
Warner Bros.
In all my years as a Harry Potter fan, I never thought I'd find myself shipping Hermione Granger and Cedric Diggory. But here I am, completely and totally shipping Hermione Granger and Cedric Diggory (all thanks to an awards show, of all things). In case you missed it, Emma Watson and Robert Pattinson presented at the Golden Globes on Sunday, Jan. 7, and Harry Potter fans on Twitter absolutely lived for the surprise moment. Since the show was running long and required each set of presenters to just come on stage, list the nominees and winners then leave, we didn't get to hear any HP puns, and I'm as p*ssed as Dumbledore was when he asked Harry Potter if he put his name into the Goblet of Fire! (In the movie, not the book, obviously, 'cause that didn't happen.)
Watson and Pattinson, both wearing black to support the Time's Up initiative, came on stage to present the award for Best Limited Series or TV Movie. Big Little Lies ended up winning (duh), but it was up against Fargo, Feud: Bette And Joan, The Sinner, and Top Of The Lake: China Girl. After the nominees were listed, Watson opened the envelope and said, "And the Golden Globe goes to... AH! I'm so excited. Big Little Lies."
Fans freaked out when they saw Emma Watson and Robert Pattinson presenting at the Golden Globes together.
Watson and Pattinson weren't the only Harry Potter stars present at the Golden Globes, however. Two were nominated, and one was a winner! Yup, Sirius Black and Remus Lupin were both up for awards last night. Gary Oldman (Sirius Black) won Best Performance by an Actor in a Motion Picture (Drama) for playing Winston Churchill in Darkest Hour. David Thewlis (Remus Lupin) was nominated for Best Performance by an Actor in a Supporting Role in a Series, Limited Series or Motion Picture Made for Television for playing V.M. Varga on FX's Fargo.
Some fans were bummed they didn't get to see a reunion picture of Hermione Granger, Cedric Diggory, Sirius Black, and Remus Lupin at the Golden Globes, but, like, it's fine. We're not crying about it or anything.
Fans can't get over the fact that we unexpectedly saw Hermione Granger and Cedric Diggory together after all this time. (Always.) I'm sorry! I had to say it!
All in all, the Golden Globes was an amazing night of solidarity for women and the Time's Up initiative. Many women (and many of the men) wore all black as a show of support to anyone who has ever been affected by sexual harassment/assault, both in and out of Hollywood. The Time's Up initiative is a legal fund set up by women in Hollywood and gender equality advocates aimed to support the legal efforts of women who have suffered at the hands of sexual harassment/assault and gender inequality in the workplace. The entire show seemed to be centered around talking about this initiative, and it was incredible.
From Debra Messing calling out E! News while being interviewed by E! to Amy Poehler and Seth Meyers setting up the perfect mansplaining joke, Oprah Winfrey's powerful Cecil B. DeMille Award speech, and Natalie Portman putting the Golden Globes on blast for only nominating male directors, the Golden Globes was all about standing in solidarity with the oppressed and other awards shows should take note.
If you haven't already watched Oprah's full Golden Globes speech, get on it.
People want Oprah to run for president following that incredible speech, and honestly, I feel like Oprah is really the only person equipped to fix the world right now. She's got my vote!
Check out the entire Gen Why series and other videos on Facebook and the Bustle app across Apple TV, Roku, and Amazon Fire TV.