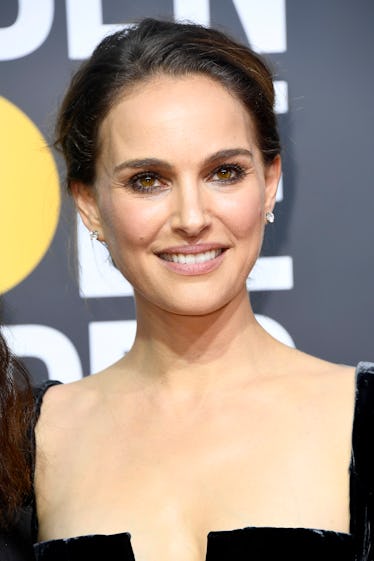 Natalie Portman Put The Golden Globes On Blast With This Brutally Honest Comment
Frazer Harrison/Getty Images Entertainment/Getty Images
The Golden Globes is always an A-lister event. When the show is completely dripping with celebrities, it's hard to stand out. However, this year, Natalie Portman has sparkled. She's made an impact as one of the most outspoken supporters of Time's Up and graced the stage as a presenter where she got even more brutally honest. If you missed Natalie Portman's Best Director comment at the Golden Globes... oh wait, that's nearly impossible. While presenting for Best Director, Portman had no fear to put the Golden Globes on blast.
Portman is such a role model for women everywhere and has been one of the strongest voices for women's rights and the fight against sexual harassment. While presenting for Best Director with Ron Howard, Portman pointed out that the category was (not so surprisingly) male dominated. The nominees were:
Guillermo del Toro, The Shape of Water
Martin McDonagh, Three Billboards Outside Ebbing, Missouri
Christopher Nolan, Dunkirk
Ridley Scott, All The Money in the World
Steven Spielberg, The Post
While getting ready to name the nominees, Portman slyly said, "and here are the all-male nominees." YES, GET IT, NATALIE. Although this was amazing, it's sad that she had to say it. Either way, people on Twitter are here for Portman calling it like it is.
Natalie Portman donned all black to the awards show to represent Time's Up. She was accompanied by fellow Time's Up advocate and overall badass, America Ferrera. While walking the red carpet, Ferrera mentioned how great the impact was to see everyone in solidarity and supporting the same cause. As reported by People, the actress said,
It's so incredible to look around and see everyone in solidarity, ready to really address the issues that exist in our industry and across all industries ... It's our job — right now, the time is now — for us to do the work that will make women and all people more safe and more equal in their workplaces and in their lives.
The initiative is so dear to Ferrera and Portman's hearts, that it actually inspired Portman to post her first Instagram story ever. Woo, another reason to celebrate.
The ladies looked gorgeous as dates and even got a few prom poses in for fun.
Portman and Ferrera weren't just wearing black in support of Time's Up, they also spoke out about the cause all night long (as we saw while Portman was presenting). It was made very clear that the ladies of Hollywood had no intention of making the Golden Globes a silent protest. Rashida Jones concisely set the record straight to InStyle. She said,
This is not a silent protest ... I don't think why we wear black is divisive as much as it is being discussed and debated without all the facts. Many women on the red carpet will discuss what's important to them about their choice to protest and wear black. We wear black to stand in solidarity with our sisters and to say time's up on this imbalance of power and the abuses that come with it, regardless of what industry you work in. It's time for every workplace to look more like our world, where women have equal representation.
Basically, all the women in attendance at the Golden Globes were saying, "Time's Up" to sexual harassment. Oprah gave an extremely powerful speech that was motivating, inspirational, and empowering (I mean, she is Oprah).
As part of her acceptance speech for the Cecil B. DeMille Award, Oprah said,
I want all the girls watching here now to know that a new day is on the horizon! And when that new day finally dawns, it will be because of a lot of magnificent women, many of whom are right here in this room tonight, and some pretty phenomenal men, are fighting hard to make sure they become the leaders who take us to the time when nobody ever has to say 'Me too' again.
2018 is truly the year for change. Using the momentum from 2017, women are banding together to put an end to sexual harassment. Let's do this, ladies.
Check out the entire Gen Why series and other videos on Facebook and the Bustle app across Apple TV, Roku, and Amazon Fire TV.