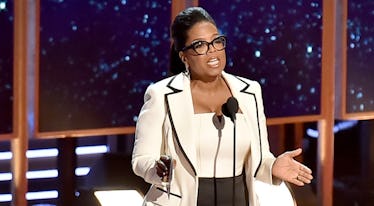 Oprah's Inspiring Speech Had Everyone In Tears At The Golden Globes
Jeff Kravitz/FilmMagic
One of the biggest moments of the Golden Globes ceremony every year is when the Cecil B. DeMille Award recipient takes the stage to give their super-sized speech. And with somebody as iconic as Oprah Winfrey being honored with the lifetime achievement award this year, of course, we all knew we were in for something extra special. She delivered, and Oprah's speech at the Golden Globes was definitely one of the highlights of the night.
The Cecil B. DeMille Award is traditionally given to someone best known as an actor or director, to celebrate their "outstanding contributions to the world of entertainment," but Oprah Winfrey adds a number of other titles. On top of being an actor and director, she is also an author, host, philanthropist, journalist, and businesswoman, building an all-encompassing career that has made her one of the most famous people in the world and one of the few celebrities to be known by just one name. This past year, Oprah continued producing two shows — Greenleaf and Queen Sugar — and produced and starred in the critically-lauded TV movie The Immortal Life of Henrietta Lacks. This next year, she will be hitting the big screen as the star of the highly anticipated adaptation of A Wrinkle in Time, and she is also working on a Terms of Endearment remake.
Oprah Winfrey took to the stage on Sunday night and brought down the house with one of the most inspiring speeches... ever. She started off by relating how powerful it was for her, as a little girl, to see Sidney Poitier win the Golden Globe for Best Actor in 1964. He went on to be the first black man to be given the Cecil B. DeMille Award, and now, Oprah is the first black woman to be given the award — a fact that she was certain not to forget. She gave a shoutout to all the little girls watching, noting how powerful it is to see someone like you succeed and be celebrated in such a way.
Then, Oprah turned her attention to the #MeToo and Time's Up movements. To the powerful men that have taken advantage of their power, Oprah enthusiastically declared, "Their time is up!"
I want all the girls watching here now to know that a new day is on the horizon! And when that new day finally dawns, it will be because of a lot of magnificent women, many of whom are right here in this room tonight, and some pretty phenomenal men, are fighting hard to make sure they become the leaders who take us to the time when nobody ever has to say 'Me too' again.
Watch her full acceptance speech below:
Oprah's speech follows up Meryl Streep's standout Cecil B. DeMille Award acceptance speech from last year, which the actress used as a rallying cry against the newly elected president. Streep relayed the horror she felt when witnessing Donald Trump make fun of a disabled reporter at one of his rallies during the election process, and she called on her fellow actors to keep showing empathy to others, and on the press to hold powerful people responsible for their actions. You can watch Meryl Streep's Golden Globes speech from last year below:
Honestly, after Oprah's infectiously passionate speech and Meryl Streep's moving political rallying cry before that, I don't know how the Golden Globes are going to be able to find a Cecil B. DeMille award winner for next year that could possibly live up to what is becoming a tradition of inspiring speeches. I guess we will just have to wait and see — for right now, I'm still just soaking up all the Oprah inspiration.