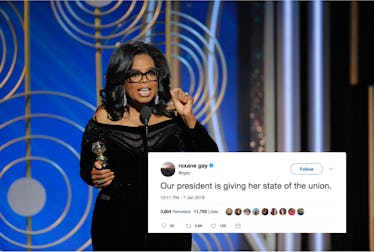 People Are Begging Oprah To Run For President After That Epic Golden Globes Speech
Every year, the Golden Globes give out the Cecil B. DeMille Lifetime Achievement Award, named for one of the founding fathers of cinema. This year, that recipient was Oprah Winfrey, and as Seth Meyers said at the top of the evening, Mr. DeMille was honored. But even Mr. DeMille could not have imagined the kind of barnburner speech that Oprah gave, or the reactions on twitter to Oprah's speech when she was done.
Usually these speeches, especially when given by old self important white men, are five minute bathroom breaks, the time when we run down for dinner, or for extra snacks, or a refill on drinks. Not this evening. Oprah would have our attention. And Twitter was here for it. Especially after Seth Meyer's joke earlier trying to encourage her to run from president. This was the type of speech that needed to end with "Vote for me in 2020."
Seth Meyers did joke about it, but there was an element of seriousness to his request as well. The fact of the matter is, the only reason that Oprah is dismissed is because she's a TV personality, and therefore viewed as "not serious." But with Ronald Reagan, an actor having been president, and now Trump, a reality show clown, currently as president, that doesn't seem to really be an excuse that holds water. And Oprah can give a heck of a speech as she showed tonight. If she ran, it could happen. So let's hope that Seth's faux insults work the same magic his real insults to Donald Trump did back in 2012, and that in four years, Oprah/Hanks 2020 bumper stickers fill the land.
Twitter is ready.
Some quotes were just too good not to retweet. In fact her entire speech was worth retweeting. Finally, a reason to have 280 characters.
Update: Here's a full YouTube of the speech. (Note that despite her speech taking almost 10 minutes, the orchestra never even tried to play her off. They know what's up).
Here's an article on the women Oprah spoke about in her speech.
Some were ready to hit the pavements for change and hope they could believe in again. Campaigning needs this type of grass roots movement, and Oprah just inspired a few campaign field offices worth of people.
Political pundits were impressed. That's the kind of passion and candidate they could go and work for, or at least have opinions about on rolling news.
Check out Obama's speechwriter, David Axelrod:
But jokes aside, this kind of inspiration was exactly what Twitter was looking for.
For others, this was therapy, without having to pay $250 for a 50 minute hour.
Put the most common refrain?
Oprah, 2020.
Not everyone was so thrilled at the idea of Oprah running for president, mind you. Not because they don't want Oprah to be president. But because we just don't deserve to have her.
Others started actually considering the logistics of such a run.
But then again, if we compare her to what did just win last year, it doesn't seem so far fetched, now does it?
And in fact it would be a vast improvement of monumental proportions.
At least some were ready to tell Trump he had just met his match.
And when the speech was over, it took the room a while to calm down. (In fact, it inspired Natalie Portman to be brave enough to call the Golden Globes out on the next category, Best Director, where they had nominated only men.)
He's not the only one who needs recovery time.
Either way, there's one thing I think everyone, of all parties can agree on.
Oprah 2020. Here for it.