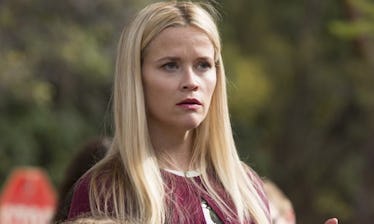 'Big Little Lies' Won So Many Awards At This Year's Golden Globes, Because Duh
HBO
There's no doubt that Big Little Lies was one of the most talked-about shows of 2017. The HBO seven-episode series based on Liane Moriarty's novel of the same name dominated water cooler buzz in the TV sphere, so naturally, the hit show is dominating award season as well. The show already picked up eight Emmys back in September, in addition to receiving accolades at the AFI Awards and the TCAs. So, how many Golden Globes did Big Little Lies win at one of Hollywood's biggest nights? Shocker! The female-driven drama cleaned up. The show took home four wins tonight.
Both Nicole Kidman and Reese Witherspoon earned a nomination for Best Performance by an Actress in a Limited Series or a Motion Picture Made for Television. Kidman picked up the Lead Actress Emmy in the hotly-contended race that had critics predicting at least one of them would go home with a trophy. Now, the crowded category at the Globes pit them against some serious heavy-hitters: Jessica Lange and Susan Sarandon for Feud: Betty and Joan and Jessica Biel for The Sinner. Unsurprisingly, Kidman took the win. Congrats, Nic!
In the Best Performance by an Actress in a Supporting Role in a Series, Limited Series or Motion Picture Made for Television category, both Laura Dern and Shailene Woodley received recognition for their BLL performances. The actresses played very different yet captivating roles, and they face off with The Handmaid's Tale's Ann Dowd, This Is Us' Chrissy Metz, and Wizard of Lies' Michelle Pfeiffer. What a tough and talented crowd. Laura Dern came out victorious, thank you very much.
Alexander Skarsgård was nominated Best Performance by an Actor in a Supporting Role in a Series, Limited Series or Motion Picture Made for Television. Fargo's David Thewlis, Feud: Bette and Joan's Alfred Molina, Stranger Things' David Harbour, and Mr. Robot's Christian Slater all join him in the category. Skarsgård also went home with the trophy and thanked his co-star Nicole in the process. Aww.
As far as one of the biggest awards of the evening go, Big Little Lies is in good company. For the enviable Best Television Limited Series or Motion Picture Made for Television award, it's nominated alongside Feud: Betty and Joan, Fargo, Top of the Lake: China Girl, and The Sinner. Annnnd Big Little Lies nabbed this one, too.
Awards really are just icing on the critically-acclaimed cake for this ridiculously popular series, but that doesn't mean they don't go unnoticed. Upon learning of the Golden Globe nominations, Witherspoon, who also serves as a producer for the series, alongside Nicole Kidman, posted an Instagram featuring her beloved cast. She wrote,
Wow!!! Thank you @GoldenGlobes for 6 nominations for #BigLittleLies! Our entire team is so honored to be recognized. I'm so appreciative of everyone who watched the show around the world and made it part of the conversation of how women are seen in this world. I'm incredibly proud that #BLL has served as a catalyst for a broader conversation about violence against women in our society. It's so important! Xx
And that's not all, folks. In addition to all the fan and cast love, it was announced in November that Big Little Lies will be returning for another season. The next installment will include the same compelling cast members and Monterey backdrop, but it will be spearheaded by a new director: Andrea Arnold.
"This is inspired by the overwhelming response by audiences around the world, conceived once again by Liane Moriarty, realized by David Kelley and now in the hands of visionary filmmaker Andrea Arnold," said Nicole Kidman in a statement following the announcement about BLL Season 2. "What a journey this has been. I'm so grateful to have this opportunity to keep exploring these female characters and make this series with my friends."
Unfortunately, the new episodes probably won't air until sometime in 2019. Whatever — we'll take it. Who knows? Maybe we'll see the cast sweeping the Emmys and the Globes again in a few years. Congrats, ladies and gents!