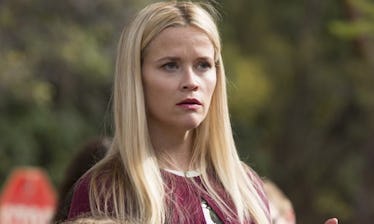 'Big Little Lies' Season 2 Is Happening & Fans Have Never Been More Excited
HBO
It's all happening. After months of wishing and hoping and speculating and re-watching, the TV heads over at HBO just blessed us with just what we needed. Big Little Lies Season 2 is officially a-go, according to the network. Plus, Reese Witherspoon and Nicole Kidman have officially signed on. To say our weekend has been made is an understatement. Viva Monterey, people.
"I'm thrilled to be bringing back this talented team of artists," Witherspoon said in a statement. "It gives us the opportunity to delve deeper into the lives of these intriguing and intricate Monterey families and bring more of their stories back to the audience who embraced and championed them. I'm beyond excited to be working with talented and acclaimed director Andrea Arnold who will be at the helm. Andrea's unique storytelling style will be a welcome addition to the filmmaking team."
"This is inspired by the overwhelming response by audiences around the world, conceived once again by Liane Moriarty, realized by David Kelley and now in the hands of visionary filmmaker Andrea Arnold," said Nicole Kidman, who won an Emmy for her role on the drama. "What a journey this has been. I'm so grateful to have this opportunity to keep exploring these female characters and make this series with my friends."
The first season of the beloved limited series was directed by Jean-Marc Vallée (who will still produce), but it looks like the upcoming seven-episode installment will get a new creative voice to steer it into its next chapter. Andrea's credits include Transparent and I Love Dick and one of 2016's biggest critical darlings, the indie stunner American Honey.
Big Little Lies is based on Liane Moriarty's novel of the same name. Liane will continue to craft the story and David E. Kelley will write the season.
Audiences were uncertain about the future of the HBO hit, considering its ending was one of the most satisfying finales in recent memory. Even Vallée chimed in on why the show should remain untouched moving forward. He previously told The Hollywood Reporter,
To do a season two, I'm not for it. Let's move on and do something else! If there's an opportunity to reunite with Reese, Nicole and these characters of course, I'll be a part of it, but 'Big Little Lies One' is a one-time deal. 'Big Little Lies Two'? Nah. The end is for the audience to talk about. Imagine what you want to imagine and that's it. We won't give you a season two because it's so good like this. Why spoil it?
Give the people what they want, Jean-Marc! It's hard to mess with something so perfect, but the Avengers-level creative team this series has assembled is pretty rock solid.
And fans are here for it.
While we can probably expect more glorious sweeping shots of the Northern California coast and a soundtrack that delivers with every perfect song choice, we really can't imagine what winding road this visionary series will go down in its next storytelling steps. Vulture reports that the series will begin casting for four new roles, including Bonnie's (Zoe Kravitz) parents and a new friend of Jane's (Shailene Woodley) who works at the school. Sorry, but may we go ahead and suggest Zoe's actual famous performer parents Lenny Kravitz and Lisa Bonet? No?
No word on when the second season of Big Little Lies will air, but we can probably plan on reuniting with the cast and crew at the Golden Globes on Jan. 7. The 2018 nominations are set to be announced Monday, Dec. 11 and it would be pretty shocking if the hit was shut out. The series dominated at the Emmys back in September, winning eight awards.
Life is full of unknowns and unanswered questions, but at least now we can count on the fact that we have more Big Little Liars in our future. Happy Friday, indeed.