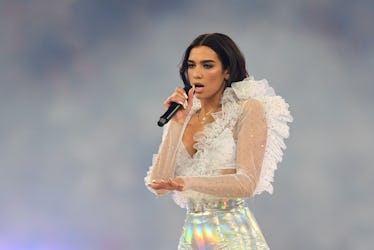 Dua Lipa Posted A Sneaky Photo With Blonde Hair, So Naturally, Fans Are Begging For Blonde Dua
Michael Regan/Getty Images Sport/Getty Images
Ever since she came on the scene, Dua Lipa's look has been synonymous with only the coolest of cool-girl vibes. Her super dark bob has become an iconic part of her style. In fact, she's been known for brunette locks since that whole girl-group-hair-brushing-train scene in her "New Rules" music video. But the true mark of a cool girl isn't one signature style; it's the willingness to take risks and change things up. With this in mind, I shouldn't be surprised about Dua Lipa's new blonde hair, as it's a total 180 from how I'm used to seeing her.
While Lipa is definitely known for her shiny dark strands, her Instagram presence as of late has definitely been hinting at her desire for a change. While she's stuck to her signature bob shape as of late, Lipa's been trying out a variety of colorful wigs when she hits the town, playing with every shade from pastel peach to fiery red to lilac — and of course, she's somehow managed to look amazing in all of them.
Dua's signature look features shiny, stick-straight, dark brunette locks, often complemented by an equally fierce touch of winged liner:
And even though she's known for the above look, her wig game is undeniably strong:
Cute, right?? These are the kinds of photos that just might convince me to ask my hairstylist for a blunt bob and bangs. (Someone stop me before I do, please.) While the wigs were a fun touch on wild nights out, fans were still convinced Lipa would stick to her classic look when they came off.
So when she posted this photo featuring a much lighter, blonde hair look, fans weren't sure if it was a real-deal bleaching or just another great wig.
Tons of celebs have gone blonde as of late, from Rihanna to Demi to Julianne Hough, so it's easy to see why fans thought this change might've been the real deal, too. The selfie only features the lower half of her face, but from what I can see, the blonde really suits her. In honor of the debut of her new shade, Lipa paired her blonde with a black and rainbow chrome checkerboard manicure. In the above photo, she's also decked out in a gold watch and layers of necklaces.
"Her name is Electricity...and you'll meet her soon enough ⚡️" the singer captioned the photo, with no other hair-related explanation. This obviously leads me to ask, who or what is Electricity? Is it the name of a song she was working on whilst snapping the selfie? Is Electricity just a nickname for the possible blonde wig? Or is a newly blonde Lipa creating an alter ego for her light-haired self? I already stan Electricity, and I have no idea who or what it's referring to. The majority of commenters on Lipa's pic are torn between it being the name of a new song or a new persona for the next album, either of which sounds OK to me.
Just a few hours after posting the selfie, Dua tweeted the following:
OK, so it's highly likely that she's referring to a new song, but what if she's talking about her new blonde look? Is blonde her "new fave"? Should we bid farewell to the iconic cool-girl brunette bob we've come to know and love (and envy)? I need answers ASAP, and I'm not the only one.
Well, unfortunately for those of us who were dying for this new color to be real, it seems it might've just been a wig, judging from Lipa's latest Insta activity. (Or, at the very least, it was an incredibly short-lived dye job.) Since posting the photo with blonde hair, Lipa has posted a number of other pictures from her recent performances, in all of which she has her signature brunette bob.
Regardless of her hair color, though, Lipa always rocks her look. Let's just hope maybe her blonde hair will fully come out to play another time.