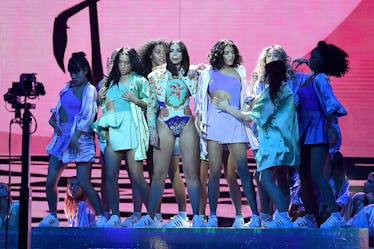 Dua Lipa Performed At The BBMAs With A Giant Flamingo & No, I'm Not Kidding
Gareth Cattermole/Getty Images Entertainment/Getty Images
Though she's been around for a minute, it seems like 2018 is finally going to be the year that people not only notice Dua Lipa — but they start paying attention. And judging from Dua Lipa's 2018 Billboard Music Awards performance, it's safe to say that if you've been sleeping on her, you better wake the hell up — and fast. Assuming she'd perform her crowd-favorite "New Rules," and following the May 18 release of her latest single, "One Kiss" — which she released in collaboration with Calvin Harris (Taylor Swift's now-infamous ex-boyfriend), fans readied themselves for a performance they wouldn't soon forget.
At Sunday, May 20's Billboard Music Awards, it's safe to say that the performer more than delivered. The singer performed "New Rules" along with a troupe of female dancers in sweet kicks. She opened the performance by sitting on a gigantic flamingo, which was seriously the best possible side-kick a pop star could as for. After hopping down from atop the bright pink flamingo, Dua Lipa strutted her stuff with her girl crew to the hit single.
Dua Lipa had arrived at the BBMAs red carpet in a purple silky dress that resembled a dressing gown, and it was in that purple dress that she performed "New Rules." Her fellow dancers, meanwhile, were in a slightly more muted purple look (bejeweled bandeaus, high-waisted short shorts, and white sneakers).
The crowd of fellow singers and celebs also got down to her performance, as she and the cool gals marched around a set of swirling stairs.
The 22-year-old singer has made a budding career out of writing about, singing about, and performing songs that speak to the most relatable human experience that we all go through: breakups — and even more specifically, the messy aftermath of navigating those new, strictly platonic, wholly confusing relationships (or let's be real, non-relationships) with exes. Her songs aren't just catchy as hell, they're also relatable AF. Unsurprisingly, fans aren't just soaking up every last lyric — they're screaming them to the beat, performing their own show alongside her.
In an exclusive interview for the website for Teen Vogue in April 2018 about her debut hit smash, "New Rules," which has garnered more than 800 million listens on Spotify, the incredibly cool performer shared that she abides by one guiding principle when it comes to dealing with exes after a breakup: "Quite frankly, block them on social media."
Amen.
I mean, "New Rules" is a playbook for how to get over an ex set to an extremely catchy tune. One, don't pick up the phone, you know they're only calling cuz they're drunk and alone. Duh. The song introduces the idea of actually putting together a list of concrete rules that you can reference so you don't make terrible decision.
Honestly, the girl's got great advice. The first time I heard "New Rules," I was like "YASSS." It's totally relatable. Every person should have a set of rules when dealing with exes, or with any toxic forces in their lives. I also won't tell you how many times I've listened to that song since.
So it's no surprise that "New Rules" became an internet sensation pretty quickly and was the catalyst to a wealth of memes and parodies. One of my favorites is a recreation done by Jake Wilson. If you haven't seen the "Boy Version" yet, let me remedy that for you right now:
It just so happens that it's one of Lipa's favorite's too. In her Teen Vogue interview, the singer talked about how thrilled she was about Wilson's tribute to "New Rules." She said,
There was one, his name is Jake Wilson, he created his own sleepover, and it was absolutely amazing. I remember everyone emailing me, like, 'Have you seen this?' I was so taken aback by the dedication to detail. I'm so thrilled.
I'm so thrilled that this song exists and I will watch all the tributes. Lipa slayed on stage at the BBMAs and I can't wait for some more awesome songs that help me live my life. Trust me, I need it.