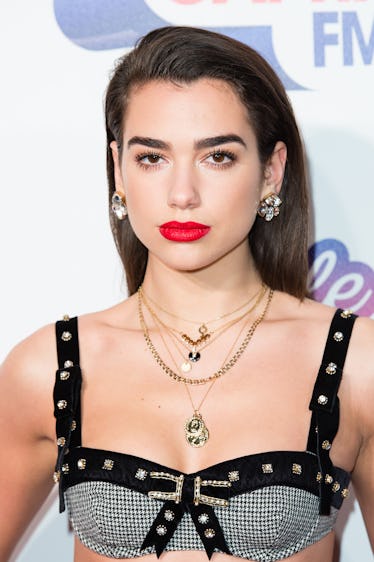 Dua Lipa Called Out Sexism In The Music Industry & It's So Badass
Jeff Spicer/Getty Images Entertainment/Getty Images
Dua Lipa doesn't give a f*ck about holding her opinions about the dark parts of the music industry back. The "IDGAF" singer recently opened up to GQ about her career — which has skyrocketed in the last year thanks to her chart-topping self-titled album — and Dua Lipa's quotes on sexism in the music industry are so eye-opening. At just 22, Lipa is no stranger to sexism in her line of work. She says it's pretty much par for the course, in fact. She's just one of many female artists who have spoken out against the way women are treated in music this year.
At the 2018 Grammy Awards, for example, Lorde pinned a feminist statement to her Grammys dress that seemed to act as her reaction to being the only woman nominated in the Album of the Year category, as well as one of the few women to be nominated in any category at all. According to TMZ, Lorde was the only person not asked to perform a song from her album Melodrama. All of the other (male) nominees in the Album of the Year category were reportedly offered to perform their own music, whereas Lorde was reportedly only offered to sing a Tom Petty song in honor of the late singer. Lorde reportedly declined this invitation, but she still attended the Grammys wearing a feminist statement on her dress.
This is the exact kind of sexism Dua Lipa called out in her interview with GQ.
She told the outlet that where men are constantly believed to be making their own music, women are frequently discredited because people "instantly assume" the woman isn't creating her own work. "For a female artist," she said, "it takes a lot more to be taken seriously if you're not sat down at a piano or with a guitar, you know? For a male artist, people instantly assume they write their own music, but for women, they assume it's all manufactured." *Sighs heavily*.
Lipa also talked about the #MeToo movement in her GQ interview published Thursday, March 29. She said that while sexual harassment hasn't been one of her major roadblocks, she's no stranger to the more subtle forms of sexism #MeToo sheds light on. "I'm lucky in that I haven't really had any sexual harassment in any way," she said, "but I think [#MeToo] is so important."
She talked about how growing up, women are taught to excuse the poor behavior of boys because, you know, boys will be boys. "You know, even from school," she said, "growing up with kiss chase or whatever, it's been ingrained in our heads that boys will be boys and it's harmless fun and no big deal and to brush things off." She continued,
Like catcalling. To some it might not seem a lot, but it affects your mood, people get embarrassed about the way they dress. For lots of females, be it actresses, singers, models, no matter what it is, it's not being able to have the right to dress and wear how and what you want and be taken seriously.
Dua Lipa's "New Rules" has been lauded as one of the year's feminist anthems, as the song is about a woman going through a breakup but it's completely devoid of any male perspective. (It's refreshing AF.)
The chorus of "New Rules" goes,
One: Don't pick up the phone, you know he's only calling 'cause he's drunk and alone. Two: Don't let him in, you'll have to kick him out again. Three: Don't be his friend, you know you're gonna wake up in his bed in the morning. And if you're under him, you ain't getting over him. I got new rules, I count 'em.
Most of Lipa's debut album, Dua Lipa, is about love and heartbreak, which is obviously not a new topic for pop songs. But Lipa's take on heartbreak is more nuanced than a lot of music written about the same topic, and it's good to see that Lipa is committed to keeping her interviews just as feminist as her music.