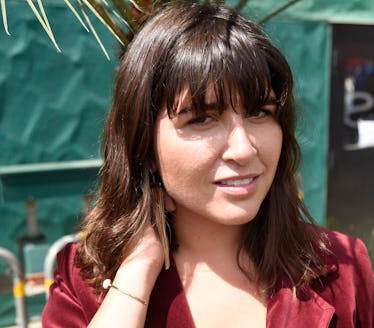 "New Rules" Songwriter Emily Warren On How She Wrote 2017's Feminist Anthem — EXCLUSIVE
"One: Don't pick up the phone, you know he's only calling 'cause he's drunk and alone." It's impossible to read those lines from Dua Lipa's "New Rules" without immediately singing them in your head. Since its release earlier this summer, "New Rules" has become one of 2017's biggest hits. Beyond its success on the charts and on streaming services, it has become a feminist anthem thanks to its message of empowerment and its amplification of the importance of female friendships. "New Rules" songwriter Emily Warren spoke with Elite Daily about the creation of the song and how it has helped carve out an inclusive space for exclusively female experiences in the music industry (and how she felt when it was turned into a meme when Selena Gomez and Justin Bieber got back together). Just as 2017 gave women films like Lady Bird, Wonder Woman, and Girls Trip — stories for and by women — Emily Warren and Dua Lipa have delivered that same inclusivity for the music industry with "New Rules." It's the kind of art that makes you think, "How did they write exactly what I'm thinking?!" So what goes behind the creation of such an anthem? Was "New Rules" a surprise success for Warren and Dua Lipa?
Warren tells Elite Daily that you never expect a song to be successful, but when she was writing "New Rules" with her friend Caroline, they realized they had something good. She says that as a songwriter, you can be aware that what you've written is good (at least from your own perspective) and could be even better given the right platform, but there's no tangible way of knowing you've written one of the most popular songs of the year. She says, "With 'New Rules,' what is so exciting about the fact that it's doing well is I've been encouraged, when I first got to L.A., not to write songs where the guy 'wasn't gonna get it.'" *The entire female race sighs an all-knowing sigh*. Yeah, that tracks.
She continues, "So writing songs like 'New Rules,' we were just taking a risk 'cause it was something that was actually going on with Caroline." First of all, love hearing that "New Rules" was inspired by real events, although I would love it just as much if it wasn't because it's still relatable as hell.
Warren tells Elite Daily that while the hard part of songwriting is letting go of control of the song once an artist picks it up, she thinks Dua Lipa nailed it, especially with the music video (which has garnered a sh*t ton of praise on its own). She says, "I think it was super bold of Dua's team to pick it and her to actually put it out and everything just 'cause it's a pretty uncommon sentiment, but it ended up being super timely and relevant and just an important message, which is so awesome."
Warren, who has been on tour with The Chainsmokers all year, won a Grammy for writing their single "Don't Let Me Down," and wrote some of the songs off Shawn Mendes' album Handwritten, tells Elite Daily she had the current straight-up awful state of the world in mind when she wrote "New Rules." She knew there was a hole that needed filling, and that hole was a song for women and no one else. No story of a guy "getting it" or even having a say in the matter. It's a breakup song encouraging women to stay strong in their convictions and lean on their girlfriends for support during moments of weakness. It's universal in the sense that it's so personal, and in terms of its feminist quality, Warren says that when she wrote the song with her friend, she had been trying to write the "right thing" for a while.
"I talk about [writing explicitly feminist songs] a lot," she says. "I think about it more in a way of trying not to do the wrong thing, but I haven't yet really written the right thing in terms of actually addressing this type of issue, so that was definitely in the back of my mind [when writing "New Rules."]" She tells Elite Daily "New Rules" was one of her first attempts at doing the "right thing," aka writing a song about an experience that's unapologetically female. She continues,
I write songs every day and you never know what's going to catch, what's not going to get cut even, but that one for sure was like, 'OK, we've done something that's really honest and maybe no one will get it, but it's good that we've done this for ourselves at least.' So it's just amazing that it's turned out the way it did.
Talkin' in my sleep at night, makin' myself crazy. (Out of my mind, out of my mind.) Wrote it down and read it out, hopin' it would save me. (Too many times, too many times.) Oh my love, he makes me feel like nobody else. Nobody else. But my love, he doesn't love me, so I tell myself, I tell myself.
One, don't pick up the phone. You know he's only calling 'cause he's drunk and alone. Two, don't let him in. You'll have to kick him out again. Three, don't be his friend. You know you're gonna wake up in his bed in the morning. And if you're under him, you ain't getting over him. I got new rules, I count 'em. I've gotta tell them to myself.
I keep pushin' forwards, but he keeps pullin' me backwards. (Nowhere to turn, no way.) (Nowhere to turn, no.) Now I'm standing back from it, I finally see the pattern. (I never learn, I never learn.) But my love, he doesn't loves me, so I tell myself, I tell myself. I do, I do, I do.
Warren tells Elite Daily that "New Rules" proves listeners can handle more nuanced, thought-provoking lyrics and even prefer them in this day and age. She says, "Something 'New Rules' taught me is people are so much smarter than we give them credit for." She continues, "That song has a lot of words in it. It's packed with information, people can totally handle it, and people are singing along. So, as writers, I think we should all be pushing ourselves to actually talk about things in music because the world is so f*cked up right now and to not address it is kind of crazy." In this same vein, she's hyperaware of her responsibility to create music that isn't demeaning toward women. "I'm really hesitant to write super sexualized songs unless it's something that I've actually felt," she says. "And I just feel like 'New Rules' is just a cool example of that because we were not thinking about, 'OK, what's going to work?' or 'Is the label going to take it?' It was just a true story that Caroline had gone through, so it made it easy to write about that."
Warren adds some of the successful music she hears that sexualizes women shocks her. She tells Elite Daily, "I'm sometimes startled by some of the songs that I hear playing on the radio that are just horrible things to be singing along to that are just offensive and demeaning stuff, and I think I always try in my writing to make sure that I don't forget about that." She adds,
I think in a way, you can kind of forget that, as a writer, you have a real responsibility because if your song does well, then lots of people are going to hear it. You write things that are aligned with your morals and that you think is right because if it succeeds, you have people hearing it. And whether or not they're fully paying attention to the lyrics, they're still subconsciously internalizing them. So I just think music is really powerful and you have to consider that when you're writing.
That's when I realized I need to start doing my own music because I have something I want to say.
"New Rules" has been named the best song of 2017 by TIME, with Rolling Stone and The New York Times both listing it in its lists of the year's best songs. Warren was also just listed on Forbes' 30 Under 30 In Music list, and the song is the first solo female number 1 single in the U.K. since Adele's "Hello," so safe to say there was plenty of space for a song like this to exist. All of this "mind-blowing" success aside, Warren says she didn't consider the song would become some of the background music of the #MeToo movement/this moment in history where women are refusing to stay silent about their truths any longer. She tells Elite Daily, "It's awesome to have written a song where people are actually discussing the lyrics and discussing the message because I think I've had things that've done well and things that've done slightly well that are just good 'catch' pop songs and with not that much of a story behind them." She continues,
I read an article last week [about "New Rules"], and it was so awesome to read this account of how this song is coming up during the #MeToo movement and how it fits with that. And when you zoom out of that, this moment in history that people will remember for decades and decades as something that's happening with our generation, just feeling like I've had a hand in a song that's the background music for that in some way is so cool. It's the best thing you could possibly dream of doing as a songwriter, I think.
A not as profound but still amazing reaction to "New Rules" was the fact it that was used as a meme when Selena Gomez and Justin Bieber got back together earlier this fall. People were tweeting the song's lyrics at Gomez in an attempt to basically say, "Girl, are you sure about this?!" The "New Rules" memes about Selena Gomez and Justin Bieber made it onto Warren's radar, and she wants you to know she loves them all.
When asked how she feels about them, she laughs and says, "You can't really plan for anything like that, so it's a really good outcome. But it's just awesome. You tend to not chase kind of 'trendy' things, and then when it just works out that way, it's just the best possible thing that can happen."
Now, Warren has her first solo album coming out in 2018. Although there's no set release date yet, her team says you can probably expect to see it in the springtime. She realized she needed to start making her own music once she had a collection of songs she intended to sell, but couldn't bring herself to do it. She tells Elite Daily, "A lot of the songs that I'm going to be putting out on my album are songs that I've written originally for pitch, and then it didn't matter if someone wanted to take them, I always felt uncomfortable about it. That's when I realized I need to start doing my own music because I have something I want to say." She says her favorite songwriter of all time is John Mayer, and artists like John Lennon, Paul McCartney, Emeli Sandé, and Ryan Tedder are some of her other favorites. The one thing they all have in common is the storytelling in their music — the most important part of any song, in her opinion. "I listen to a lot of music from the '60s and the early jazz days because I love storytelling in songs," she says. "I think the way that [John Mayer] tells a story and the how the melody always goes with what he's saying, like with the emotion of what he's saying, is something that I'm always thinking about in writing."
On her so far unnamed album, you can expect every song to tell a story that has personally happened to her. All of the singles she's released on her own thus far have done just that, and she's looking forward to releasing more music that takes what seems to be a sad song and making it upbeat in its melody — one of her favorite current trends in music. She says,
What I think is challenging that I loved for a period (and that I still love) is writing really, really sad songs just because it feels good to do that. But I think what I'm trying to do now is, if you pair a sad lyric with a not-so-sad melody, it makes it not only more digestible, but also uplifting in a way without having to have an uplifting message necessarily, which is a really cool effect, I think. Like, you don't necessarily want to put more sadness into the world even if you're talking about something sad. Giving some glimmer of hope whether it's in the melody or in the music is kind of an interesting approach.
The success of "New Rules" taught Warren that people are ready and aching to hear music that is apologetically about the female experience. Women have been ready for this "no more beating around the bush" music, and Warren's ready to provide.